Salsola Residency
General

Territory

Members

Other

Contact ∙ Links

Main Info

The Queendom of Salsola

The above linked page is an overview of the whole of the Thistle Kingdom.

Character Overview

We expect our players to keep their own character listings updated in the directory.

Miscellaneous

Quick Maps

Contact Us

Pack Account

For all general inquiries, please PM the SL Pack Account.

LEADERS

Joining Salsola?

Reading this introductory information is mandatory before attempting to join the pack.

The Portland Outpost

The Fort Preble Outpost at Portland, Maine, is an important off-board trade destination for Salsola.
Longterm aNPC Salsolan characters end up here.

Familial Houses

Read more about Salsola's hereditary Houses and their importance as IC flavor. Find out if your character is a member of an esteemed House today!

External Links

Discord

Salsola has its own Discord Chat! To be added to the channel, please contact Salsolan Leadership.
Only present or past players of a Salsolan may join the SL Discord Chat.
The Ruins, Residences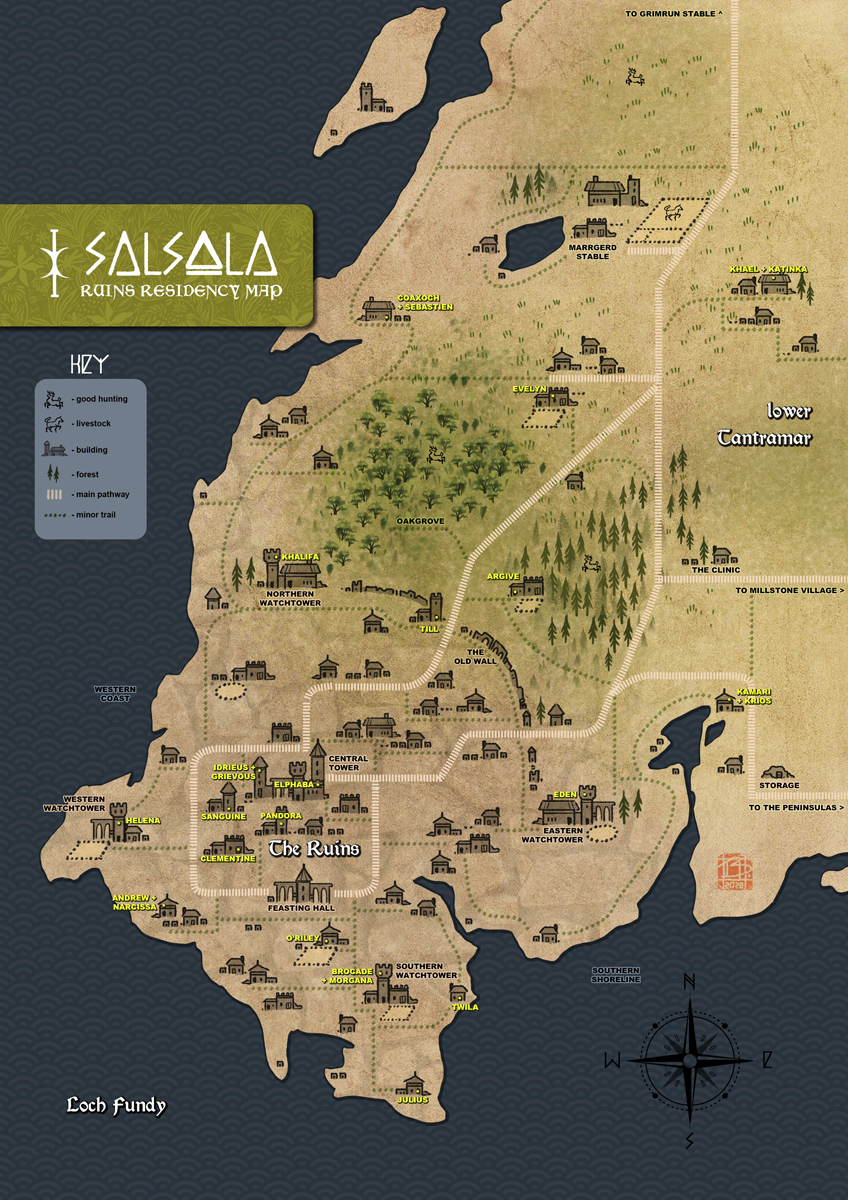 by Alaine
1.  Policies
Feel free to claim unoccupied residences - Residences in the Ruins MUST be purchased via game points.
Only characters ranked Family or higher can purchase a residence in the Ruins (to be displayed on the Residency Map). Lower ranks are free to live within Millstone Village or elsewhere in Salsola without charge.
You need only edit the page and write in your claim - or post to the Salsola Maintenance thread if you're not comfortable editing the Wiki.
Please keep your room description limited. You are absolutely welcome to link to a longer description, but keep it relatively concise on this page, please.
Feel free to include any and all characters and NPCs included in your residence.
If you leave Salsola (or aNPC for a prolonged period of time), we can't guarantee your residence will be available when you rejoin the pack. Sorry!
Please note that The Ruins is the only Residence Area with a map. Millstone Village and Other do not have a formal residence map, nor do they require you to purchase a residence with game points.
2.  The Ruins
» See The Ruins page for information on Salsola's main settlement

The Ruins are scattered from the Millstone Village, stretching steadily southwest towards the coasts of the peninsula. It was claimed as the main dwelling locale for the denizens of the Thistle Kingdom during the original foundation of Salsola, and has presided as the center of domestic Salsolan life to this day.
Like bones, the bleached remains of a grand Chateau and its outbuildings sprawl in eerie, crumbling splendor across the high plateau. Monoliths from an age gone by, the ancient castle comprises of one central and four compass towers, along with a large number of halls, keeps, machicolations, barbicans and gatehouses.
Many of the venerable old buildings are little more than stone skeletons, and require extensive repairs or additions to make them livable. However, not an unreasonable number have weathered the ages well, needing only a new wooden roof and mortar patches to provide comfort and shelter. A number of the buildings provide secretive pockets, and are often disguised with a protective growth of wild thistle. The stunning overgrowth of underbrush provides excellent cover, with vines overtaking the vast majority of externally exposed stone.
There are many pathways meandering throughout the Ruins, the main ones cobblestoned and large enough for a horse and cart, the minor ones little more than an individual-wide trail of packed earth. The main pathways are often accompanied by hedgerow or low weathered stone walls.
Within the Ruins, many worn dirt and pebble-lined trails crisscross between residences, leading particularly to common areas such as the Feasting Hall, where Last Supper pack meetings are held. Due to the nature of the decrepit old caste, the Ruins provide an ample defense for the pack in the event of an ambush. There are many hidden nooks and crannies amongst the crumbling stones, and in parts, the castle's ancient outer wall remain as a physical blockade. The Ruins also comprise of four compass-pointing towers that have been repaired over the many years of Salsola's claim of the area.
2.1  Residents
Mafioso + Sotto Capo Members
Occupant(s)
Location
Description
NPC pets in Residence -

(list NPC luperci in 'Occupants')

Former Occupant(s)
Elphaba Revlis
Odalis
Morrow Larue
Throne Room - Central Ruins Tower
A great heirloom of the old castle ruins is the Throne Room tower. Surprisingly intact, this round stone chamber lays at the very heart of the castle proper. In its center is a grand stone throne, harshly and uncomfortably built, a throw-back to the great Kings of old. With some careful ministrations, the grand chamber and its adjoining wings have come to resemble a rather comfortable dwelling, if still somewhat cold and perfunctory. The central tower has a spiral staircase, though only the ground floor and second floor rooms are suitable/safe for habitation.

Free Roaming: ---
Stabled: Unnamed mare

Older Occupants »

Indra Revlis
Abeni
Lokr Revlis
Osrath Eternity
Clementine Salcedo

O'Riley Eternity
Igor Kotovo
Homestead south of the Feasting Hall
A relatively large one-floor farmhouse with surrounding pasture. The shape of the place suggests that the building was originally a barn which underwent extensive repair; it is broken up into three seperate spaces, the largest of which is an open gathering area with a few constructed storage additions.
Brocade Valentine
Morgana Revlis
Velour Valentine
Taffetta Valentine
Tattersall Valentine
Intarsia Valentine
Southern Watchtower
The somewhat dilapidated Southern Watchtower's first floor is the only truly livable space; a stone spiral staircase leads to an upper level, but it is incredibly drafty and there are stones missing. Outside, there are a few flagstones leading up the slope and the doorway is flanked by twelve-foot lilac bushes. A clothesline is well-hidden behind the stone structure. A lean-to shelter and shed have been built against the back of the building, ringed by a small pasture.

The barracks is located adjacent.

Free Roaming: Tonnerre, Adelia, and Pythos
Stabled: ---
Occupant(s)
Location
Description
NPC pets in Residence -

(list NPC luperci in 'Occupants')

Former Occupant(s)
Idrieus Eternity
Grievous Eternity
Azalea Eternity
Lilium Eternity
Whisper Eternity
A wing of the castle ruins.
Idrieus and Grievous live in a single room within their own wing of the castle, but has also claimed several others along the same wing for her books. Due to an event that caused many of her books to become useless, one room had been cleared out for Grievous to use as his own private space. Their living space is minimal, there being a pile of hides in a corner for sleeping, a simple wooden shelf with wood decorations. There is a wooden table and chairs along with a small built fireplace for them to use. Idrieus' library is spread out across multiple rooms, each room containing only books on a particular subject.
Kamari Kaiser
Krios Revlis
Residence northwest of Storage
A one-story cabin hidden away by a small patch of forest on either side, and blocked off by a small lake at its back. There is a paddock on the northwestern side, an unattached open workshop (for Kamari's pelt-making and the pair's arrow-crafting) of sorts towards the southwest, and a hidden archery range (built by Kamari and Krios) in the portion of forest to the southeast of the house. The house itself has two bedrooms, a study, a sizable storage room, and a general living room with a fireplace. There is a porch at both the front and back entrances that are usually used for collecting firewood. A stable located within the paddock is connected to the house's northwestern wall.
---
Atlas Greygrief
Narcissa Greygrief
Tesla Greygrief
Renly Greygrief
Residence southeast of the Western Watchtower
---
Andrew Greygrief
Impreza Greygrief
Till Van Ulrich-Lykoi
Spartacus Simone Ulrich
Raito Ulrich-Lykoi
The Old Wall, Captain's Cabin
Along the Old wall stands an old Captain's cabin that once housed fierce warriors and their elite. This particular building is largest among the ruins of the smaller mess hall and supply huts that facilitated the rest of supplies and lower ranked members of the militia. There is a small stable that is offset to the side of the large cabin, and a corral in the back of the property.
Coaxoch Ulrich

Nephele
Priya Ulrich-Lykoi
Dirge Trombetta-Ulrich
Mekhl Valentine

Clementine Salcedo
Baltasar Salcedo

Residence in the southeast castle ruins
Relatively small – with a downstairs capable of fitting only a table and chairs comfortably – and somewhat Frankenstein-esque in build, having seen some additions at various points throughout the age of humanity, the upstairs is comparatively spacious, with an abundance of natural light. Private due to the many old-growth trees that ring the small property while maintaining a central location within the Ruins themselves, recent additions include a firepit and woodcutters block.

Stabled: Fingal
Free Roaming: ---

Lyra Salcedo
Unoccupied
Residence northeast of Feasting Hall
A small, one-story building built of stone and covered in ivy and vines. The land behind the building is reasonably private and with a garden. The residence has a small, in-home medical clinic in its right wing.
Neith Heiwa
Occupant(s)
Location
Description
NPC pets in Residence -

(list NPC luperci in 'Occupants')

Former Occupant(s)
Eden de le Ulrich
Eastern Watchtower
The Eastern Watchtower interior is primarily wood, specifically cedar and teak, and uniquely constructed with a complex and intricate wood-only joinery system. The exterior consists of brick and stone, though the eastern side has grown a large wall of ivy. There are three stories: the ground floor, which has a hearth for fire and passage to the stables and storage shed; the second story, which was repaired and now a bedchamber, and the topmost floor which provides access to the roof. A straight and narrow staircase connects all the floors. Fresh flowers are kept throughout the home, and drying herbs are hung around the hearth. The bedchamber windows were fitted with wooden shutters, though they are frequently left open to allow light and the breeze off the bay into the room.

Free Roaming: ---
Stabled: ---

Older Occupants »

Indra Winters
Maelyx Nocturne
Mors Einar-Nocturne
Pandora Einar-Nocturne
Somnus Einar-Nocturne

Sanguine Valentine
Saint Moineau
Tower east of the castle ruins
A tower swathed in ivy, half-encircled by a crumbled stone wall that encloses a small yard. The main room with its hearth is the warmest, though the building has slot windows to keep much of the draft out. A good-sized room is separated from the main by a weak door, used largely for sleeping. The spiraling staircase leads to a cramped "office" smelling of incense, leather, and parchment.

Older Occupants »

Pierrat Benoît
Ask Fylgja
Stjarna Helsi
Loki Helsi
Embla Soul

Evelyn de le Ulrich
Residence northwest of the Clinic
---
---
Argive Hemlock
Northeast of the central gap in the Old Wall
The home is secluded, and somewhat hidden amongst a small section of evergreen forest, accessible by a worn trail that leads up to the property. The cabin is of medium size and of a mixture of stone and wood construction. It has various, leafy vines that thickly crawl up the outer walls after years of being abandoned to nature. A wisteria vine creeps up one of these outer walls. The home has a sizable, wood-fenced paddock to allow a horse or two to live comfortably. Opposite of the paddock, Argive has prepared a fenced off area for a private garden of his own making, hosting a variety of herbs both medicinal and poisonous.
---
Katinka Holt
Southeast of Marrgerd
A three-roomed cabin close to Marrgerd. The main room has a couch (cushions made of stuffed hide), a low table, and a "cat tree" made from a scavenged branch. It leads to the kitchen, which boasts stone counters and a woodstove. The bedroom has a single master bed and a closet for storage. Overall, the cabin is in good shape, but the roof has a tendency to leak, and some floorboards need replacing.
---
Julius Valentine
Oiseau Troy Lykoi
Baie Troy Lykoi

Residence on the southern peninsula, south of the Southern Watchtower
---
---
Coaxoch Ulrich
North of the Northern Watchtower
Nestled in a rather dense patch of forest stretching in from the north is a split-level hunting lodge flanked by the western coast. Though rather run-of-the-mill and unimpressive looking at first glance, the one striking feature of the cabin is the tall lookout tower looming on its western side. As a whole the place is heavily overgrown and easy to miss by any passerby unless one was specifically looking for it, which is part of its charm.
Duncan de le Poer
Unoccupied
Cabin west of the Clinic
A three room cabin located by Salsola's clinic, the place is relatively isolated. Well maintained, the outside is always clean of debris though the inside of the cabin can be far more haphazard. The horses and wander freely around the area, and it often smells heavily of fire due to frequent use of the firepit.

Older Occupants »

Bane D'Angelo
Basilaris Eternity
Heine Kaiser
O'Riley Eternity
Grievous Eternity
Occupant(s)
Location
Description
NPC pets in Residence -

(list NPC luperci in 'Occupants')

Former Occupant(s)
Khalifa D'Angelo
Northern Watchtower
Standing three stories tall, with only two floors intact, the Northern Watchtower looms beyond the North Western Coast of the Ruins. The stone exterior is a bit chewed up from old vines that had been removed, but still strongly sealed, and the third floor access stairway is crumbled and inaccessible.

Older Occupants »

Kaeli Blacksun
Shaamah
Mithra Blacksun
Nazar Blacksun
Zetsubou

Twila del Morte
East of the Southern Watchtower
A rustic fisherman's lodge situated along the treeline. A worn path leads through the trees down to the rocky shore. A small building connected to the cabin houses weapons, firewood, and fishing nets. The cracked windows are covered with heavy leathers and furs to cut down the whistle when the howling Atlantic winds pick up during the fall and winter months. The cabin features a hearth for heat and cooking food and a table covered in worn maps and documents. There is a small bed sits in the corner, a wooden frame supporting a worn mattress covered in blankets and furs. A rudimentary paddock is clearly in the process of being built nearby.
Elody Lykoi
Rufus Lykoi
Zlata
Western Watchtower
The large Western Watchtower has remained fairly sound over the years. The first two floors remain sturdy and in use, plus a shallow cellar. What used to be the third floor is still accessible, but is without a roof. This creates a rather nice "balcony" which has been decorated with (wild and domesticated) medicinal herbs and flowers. The crumbling walls of the adjoining building have been rebuilt with wood and mud. They have been converted into a small stable and secondary room. The inside is warm. Around the base of the structure grows an abundance of lavender bushes.

Older Occupants »

Spartacus Simone Ulrich
Andrew Greygrief
Eusebia Lykoi
Helena Troy Lykoi
Pontifex Troy Lykoi


Lyra Salcedo
Southeast of the Northern Watchtower
---

Free Roaming: ---
Stabled: ---

---
Pandora Nocturne
Maelyx Nocturne
Tower south of the castle ruins
A tower with thistles embedded in the cracks of its stone. The first floor performs as a parlor, dramatically lit via slot windows and intricate in decorations. A side room acts as a kitchen. The second floor consists of two rooms as well, one serving as the master bedroom and the other as a study. The third floor is stable but missing its north-facing wall. It has since been converted into a lounge where strong-smelling herbs are hung from the ceiling to dry. The smell permeates from the gap, basking the tower in its unnaturally flowery scent. The adjacent building has been re-purposed into an open air workshop. (Details)
Quicksilver Lykoi
Absolution D'Angelo
Solace D'Angelo
Plague D'Angelo
Unoccupied
Midway between the Northern and Western watchtowers.
A large hunting cabin tucked away within a small wooded area flanked by the coast. It has a large fenced in area for the horses, whose stalls are directly connected to the house. A small work shed sits a little ways from the house, complete with a tanning rack and decorated with an assortment of hunting trophies.

Free Roaming: ---
Stabled: ---

Scorpius D'Angelo
Serene Eternity
Vesta
Senua D'Angelo
Sidious Eternity
Unoccupied
South of the Feasting Hall
Close to the shore, is a set of three cabins that might have been used by fishermen, once upon a time. While one of the old constructions is barely two sets of crumbled wall still standing, torn apart by time, the largest cabin has been recovered and is now Cleome's home. The second has been turned into a small stable and storage. The rather spartan cabin of stone and wood was turned into a charming home by Cleome's careful care and refined tastes. With humble decorations, and a very neat organization of the spaces inside, the cabin is cozy and welcoming. The stable is just big enough to house two horses, and their feed and tack inside the storage area.

Free Roaming: ---
Stabled: ---

Cleome Valentine
Amalthea
Unoccupied
West of the Eastern Watchtower
A nondescript and oddly small three-walled structure on a hill at first glance. The fourth side, the entrance, is a "door" of leather and thorny vines -- opening to reveal stairs descending into the earth. The stairs lead to the main room, which boasts shelves on the stones walls. A bench of rock sits along one wall, covered in thick pelts for seating. Another wall hides a private room, which has "cubbies" (of removed stone bricks) for knickknacks. Thick pelts are laid down for bedding. In the winter, smooth green snakes hibernate in these walls. In one corner of this room is a small, hidden entrance that leads out to a thistle-hidden hole at the base of the hill, accessible by Lupus form.
Loki Helsi
Stjarna Helsi
3.  Millstone Village
» See Millstone Village for more information on Salsola's alternative settlement

Millstone is a relatively isolated village, with only a small number of cottages, cabins, and houses that are in good enough standing to shelter denizens. It is accessible by a main pathway that leads out of the Ruins proper to the southwest, and also by many little forest paths that stretch and twist for miles through the greater Pine Barrens. Overgrown and surrounded by small plots of open land, the area is unusually fertile.
Small cabins hunker against the elements, many still containing simple tools of the past; technological advances were not present in this village even before the apocalypse. From silos to barns to a one room schoolhouse and graveyard, one can draw the conclusion that Millstone was, originally, an Amish village tucked away from the eyes of the world.
OLD: Way down on the southern point of the Isthmus of Chignecto is a small village that cannot be found on a map. In fact, there are literally no roads to Millstone Village at all, only forest paths that stretch and go on for miles. Eventually through the trees there are cabins and a few copses here and there along with tools of the past;none of the technological advances of the world around can be found. From cabins to barns to a one room schoolhouse and graveyard, one can draw the conclusion that Millstone Village is in fact, an Amish village tucked away from the eyes of the world.
The Ruins, where much of Salsola resides, are scattered from the Millstone Village nearly to the coast -- like bones, the bleached remains of a grand Chateau and its outbuildings sprawl in eerie, crumbling splendour. The stone remnants of buildings provide secretive pockets, often disguised with a protective growth of wild thistle. The stunning overgrowth of underbrush provides excellent cover.
3.1  Residents
Occupant(s)
Location
Description
NPC pets in Residence -

(list NPC luperci in 'Occupants')

Former Occupant(s)
Velimir Voronin
Cabin in the northern area of Millstone Village
Simple, two-room cabin that sits near the forested edge of northern Millstone. There is one entrance, which is covered by a porch. The main room is of good size, hosting a fireplace, a low table, and a dresser. Fur rugs are placed for comfort, and small wood carvings/totems may be found littering various surfaces. The smaller room towards the back of the home is used as a bedroom. There is a stone fire pit outside, as well as a Luperci-made hitching post. An open shelter for his horse has been constructed on the side of the cabin.
---
Unoccupied
Eastern area of Millstone Village
A small dug out cabin that is set below ground level. There is only one small window at the front of the cabin, and inside it is small enough only for their cots and a small storage unit between them. The roof is covered in a thick layer of moss and lichens, and the cabin smells strongly of rich earth and moisture. Despite this, it is warm enough in winter and cool enough in summer -- there is a small chimney to one side of the cabin that offers a fire pit to be used for warmth. The door has long ago rotted away, and so a heavy piece of burlap covers the entrance.
Weaver Valentine
Hyacinth Silevue
Emmett de le Poer
Jaketta Nocturne
Unoccupied
Eastern area of Millstone Village
A modest little shack on the northeastern edge of Millstone near the southernmost fringe of the Pine Barrens. The structure consists of a single kitchen and an add on room with a makeshift cot on one side and a creaky table and a few chairs on the other side where the single tiny window overlooks a small herb garden. The room is adorned with pelts and a homemade stone furnace with a stone for cooking and warmth. The worn old door has seen better days and could do with some reinforcing against the elements, as does the roof and the window which leaks when it rains.

Older Occupants »

Elody Lykoi
Calla Valentine
Helena Troy Lykoi
Sanguine Valentine
Saint Moineau

Unoccupied
Cabin south of Millstone Village
The small one-room cabin sits close to the bay. The windows once held glass but are now broken through, and they frequently allow in a cold draft. The porch of the cabin is dilapidated with several boards missing, though it still provides decent cover. The space is clear of debris and contains an oak coffee table and in tact bed. The bed's molded stuffing has been removed and repacked with fresh grasses, flowers, herbs, though it is otherwise plain and unadorned.
Rafael Salcedo
Plague D'Angelo
Lilia Salcedo
Ossidael Lykoi
Unoccupied
Eastern area of Millstone Village
Though undoubtedly not meant for human residence, the foundation and walls of this building suggest it was a shed meant to withstand the elements. With the door long missing the singular entryway is covered by means of a sheet of leather. Time and weather have poked many holes in the roof, which itself is overgrown with moss and lichen.
Morgana Revlis
Katinka Holt
Khael Lykoi
Unoccupied
Central area of Millstone Village
Likely one of the most dilapidated cabins in the Millstone area, half of the cabin's roof is missing and most - if not all - of the surfaces inside are covered in a carpet of greenery. No glass is left in the windows and there's no door to block anyone from looking in, with the only furniture remaining being a lonely nightstand in the corner. In the same corner (under what's left of the roof) is a large amount of moss, soft and lush enough to make an albeit damp bed, covered with a layer of leather under a sheet of cloth.
Urho Rask
4.  Other
» See Salsola's Territory page for information on other locations and the layout of the pack's claim

Residences that fall neither within the Ruins or Millstone Village are listed here. These residences can be anywhere within Salsola's territory, barring, of course, key areas of interest (ex. The Clinic) that are intended to be for public use. Housing found outside the Ruins, Millstone Village, or Amherst (The Marketplace, The Docks) locations are likely to be in greater disrepair. Building a home is also a viable option. In all cases, be sure to keep realism in mind with repairs and construction.
4.1  Residents
Occupant(s)
Location
Description
NPC pets in Residence -

(list NPC luperci in 'Occupants')

Former Occupant(s)
pNPC Mirte Haumann
The Marketplace

A homey dwelling along the main trading road within the Marketplace. It functions as both a tailoring workshop and place of residence, and has ample room for Mirte's trading stall in front of the house. There is a fenced-in, open plot next to the house in which Mirte has turned into a makeshift pen for her horse.

---
pNPC Duncan de le Poer
pNPC Lace Valentine
The Queensgate Garrison

Small, barrack-like rooms located within the Garrison. They are large enough to comfortably fit one Luperci; allowing for a bed and room for a small cupboard or dresser. Each room is decorated to their occupant's preference.

---
Lithia Napier
Greed Lykoi
Totem
Pine Barrens, closer to the garden
A medium-sized dugout cabin that's half-in-half-out of the ground. It's got 3 windows (the glass shattered out of them when the Red Star fell) and a door above ground, while the rest of the house rests underneath a thick slab of dirt, grass, and foliage. Inside, there's a large spacious main room with a hearth and two smaller rooms, one for sleeping and one for storage.

Free Roaming: Gezi (Horse)

---
Jaketta Nocturne
Northwest of the Apple Orchard

A turf house built by Urho during the winter of 2015/2016. On the outside, it is basic in construction; Half of the house is lowered into the ground where the top half's bricks were harvested. A simple, makeshift hut houses Urho's blacksmith paraphernalia. On the inside, the house is long and features a cooking spit in the center while benches and stone walkways circle around it. At one end of the house, opposite of the entrance, is small room dedicated to storage.

Urho Rask
Kjell Rask