Hi, I'm Sie McSie. You may remember me from such prior adventures as the Cult of Lykoi or the skull-dangling coyotes. I'm here today to tell you all about the benefits and wonders of this snake oil...
I helped found 'Souls in 2001 when I was 13. I administrated from then until 2007, when I left the game. I came back in June 2009 and became an administrator again in October 2010. I've led Inferni for a lot of my time at 'Souls, though I've also had a ton of stints elsewhere. Storm, Syemv, and Salsola all had some Sie poked into them some time or another.
I've also had a lot of characters. Whoops.
Also, yes, you can take whatever templates/code/whatever I use on the Wiki and use it for yourself! Have fun and go wild. :D
Sie

About

Links

Gender: Female
Location New Jersey
Birthday: 1988

If you need something, just ask. I'm glad to help.

PM — Myrika Tears

PM communication is

strongly preferred

. Please keep this in mind. I suck at chatting and remembering chats. :)
PM my primary account only.
Give your PM a descriptive subject.

E-mail — sie@soulsrpg.com

You can e-mail me if you don't have a forum account.

AOL IM — sieviant

Online by request only.
Please introduce yourself if you catch me lurking and it's our first time speaking.

Roleplay

General

Art
1.  Info
1.1  Roleplay Information
Plots & Threads

I use flexible thread dating (thanks Tammi!). Talking about dates with me is useless. Just date the thread when you want. I don't care. XD
I prefer starting threads but am flexible on this point. If you dislike starting threads, awesome, I got it!

Content

No LASKY or Preybot by request.
For sexually explicit threads, I generally prefer fade to black. Otherwise (violence, gore, drugs, innuendo, RP leading up to sex), I don't care.

Assumptions

I am okay with some OOC assumptions (long-term, pre-thread, post-thread, etc.). Check my individual characters' pages for specifics you can assume without asking. Anything else, please PM me first.

OOC Notes

I am super-prone to leaving OOC messages in my posts that were meant for a different thread. If my OOC message is unintelligible or nonsensical, it probably wasn't meant for you! Sorry!

Speeds

I don't care how fast you reply, but note the archival information. My reply speed varies, but typically does not exceed one week. If you want me to go slower, let me know. I can't go any faster, though. ;)

Replies

I may let you know it's your turn in bigger group threads, as it can be tough to remember whose turn it is! Feel free to do the same for me.
I may let you know it's your turn after about two weeks, you if you've only replied once. I assume you may have forgotten to log the thread (no worries! <3).
If I haven't replied at all, let me know after about two weeks! I use our automatic searches as post logs: as long as I've replied once, I know I have to reply to your thread! But -- if I haven't replied yet, it's not on my log. I may not know I have to reply!

Archival

I am rarely opposed to OOC endings. I don't look at threads until I intend to reply, so if you want to close a thread, please PM me!
If I start a private thread, if you haven't replied after two (2) weeks, I mark it AW.
I archive our thread and consider it dead if it's been three (3) weeks without a reply
I am not keen on grave-digging archived threads.
1.2  Souls Characters
Inactive

Decommissioned

Dead

Future

Other

Notes

Σ: Didn't actually play, but I intended to!
NPCs
Using and Referencing NPCs
If your character is in the same pack as my characters (and therefore their NPCs), feel free to reference these characters as being seen around the packlands, etc. in your posts. I'm really easy-going with this; just make sure your references make sense and are "usual" interactions. It's fine to say your character wandered past the Great Village and saw Myri's horses in the corral. It's not fine to say your character saw one of her horses down in Halifax, just wandering.
If you'd like actual interaction with these characters in your thread, ask first.
In the case of either of the above, special notes are listed here. Please pay attention to them, and make sure you are adhering to that character's temperament, etc.
1.3  'Souls Things I Like
My favorite parts of 'Souls are the Wiki and the Areas information -- I love trawling the Wiki, editing and updating it, and I really like learning more about the area 'Souls is set in, as well as expanding information about said areas.
I like making families and pieces of the 'Soulsverse. Worldbuilding and familybuilding and all that stuff makes me go "oyespls!" ... actually, you know what? I like basically everything related to making characters. Hence the overload of adoptables and crap!
I also really love that this game is over a decade old and plays such a seemingly major part in so many people's lives. The sense of community we've all built is awesome. I'm not the most social person, so you won't find me as... "the life of the party," really, but I'm a happy observer, all the same.
1.4  Character Tidbits
I like killing characters in spectacular, gruesome, or otherwise suparintense!!!11111!one! ways. See also: Stormy getting struck by lightning, Charon getting eviscerated by Samael*, Sicarus getting betrayed by Haku*, Maeryn getting torn to pieces by her mama, Harlowe getting castrated by his half-brother and then slaughtered by his uncle/mentor... you get the picture!
*it's a fucking honor to have characters killed by Haku and Samael, I says!
Alternatively, I like playing some characters until they're basically walking corpsely zombies.
I like breeding characters like a madwoman. No srsly Kaena couldn't have any more babies when I wanted her to because her uterus would have fallen out, realistically. Eris isn't as prolific as her momma, but she's had some frigging awesome babies thus far. This is weird because IRL I actually don't want kids at all!
Character Data
Pack Membership

Probably no1curr but me, but is cool. ;_;

Thread and Post Counts

Primarily for my own records and Catacombs skull counting.

'Souls

Bleeding Souls

Inactive Post Count: 2282

Active: 1061; Total: 3343

Thread Count: 757
1.5  History
OOC

2001-2007: Founded and administrated 'Souls.
2006: I started having some sporadic inconsistencies of presence. I came back later that year...
Oct 2007: ... before withdrawing myself from the game completely. I guess I thought I was too old for it, or I'd just lost interest--either way, I don't know, but I dropped out rather abruptly after flailing around inactive for the better part of six months.
2007 - 2009: Though I don't regret leaving (I was seriously dragging the administration down with my inactivity), I always thought about Souls. I avoided this place like all hell for those two years and didn't even post a single lurkerpost, but I found myself poking around again more and more after one accidental click over this way. I've watched Kiri on deviantART for like, ever, and her pretty pictures helped draw me back in.
9 Jun 2009: I came back!
Feb 2010: I became a junior mod.
18 May 2010: I became a senior mod.
July 2010: I won Community Soul. Thank you for nominating me!
Oct 2010: Whoops, they gave me access to the administration panel again.
Oct 2012: Along with the other 'SA, I was nominated 2012 October Community Soul. Thanks!

IC
1.6  Threads
See my character's pages for their thread archives. This is only for Preybot and LASKY threads.
2.  Other
2.1  OOC
Name
Sie comes from Stormsie, which comes from Stormy. You pronounce that like "see" or "sea," by the way! Stormy was my original nickname, coming from my first character. It got cutesied into Stormsie by someone, and eventually just became Sie.
♥
Interests and Things: Texas Hold'em poker, the Internet, art, drawing, cats, design, web design, web development, HTML, CSS, Photoshop, reading and writing, socialism, dogs, computers, tinkering, werewolves and wolves, post-apocalyptic things, the New York Mets, zombies, mythologies, culture, caffeine, coyotes, communism, gambling, sociology, thinking, analyzing, rescue pets, coffee, psychology, gender studies, New Jersey, politics, talking out of my ass, and a great variety of things I'm told are wonderful.
Books: Pretty much anything I can get my hands on, I will read. Choke, Haunted, Invisible Monsters, Diary, Lullaby, Snuff, Rant, and anything else ever written by Chuck Palahniuk. Anything ever written by Jack London, especially The Iron Heel and The Call of the Wild. A Song of Ice and Fire by George R. R. Martin. Animorphs. Stephen King -- The Stand, along with The Dark Tower series. The Beach by Alex Garland, A Handmaid's Tale by Margaret Atwood, 1984 by George Orwell, Brave New World by Aldous Huxley. I also really like any kind of werewolf book, obviously. It has to be really bad for me to dislike it.
Games: Fallout 3 and New Vegas, Call of Duty (MW2, Black Ops, Black Ops II), The Legend of Zelda (Ocarina of Time, Majora's Mask), Red Dead Redemption, Grand Theft Auto (III, San Andreas), Don't Starve, Skyrim
Music: William Elliott Whitmore, Bright Eyes, Placebo, Murder by Death, Townes van Zandt, Ludacris, Modest Mouse, Kidneythieves, Radiohead, Puscifer, Marilyn Manson, Lil Wayne, The Grateful Dead, Kanye West, Death Cab for Cutie, Outkast, Massive Attack, Tom Waits, The Devil Makes Three, Gorillaz, Portishead, Hayes Carll, Alkaline Trio, Eminem, Jay-Z, Tool, Justin Timberlake, Wiz Khalifa, Taking Back Sunday, Scott H. Biram, Everclear, Ryan Bingham, Otep, Todd Snider, Flogging Molly, Gillian Welch, Muse, Rilo Kiley, Seasick Steve, Micah P. Hinson, Chuck Ragan, TV on the Radio, nine inch nails, Ugly Casanova, Kendrick Lamar, Visual Audio Sensory Theater, Old Crow Medicine Show, Red Hot Chili Peppers, A Perfect Circle
Movies: Fight Club, Requiem for a Dream, Children of Men, Sleepy Hollow, Pirates of the Caribbean series, Spun, Trainspotting, 28 Days Later, The Boondock Saints, Party Monster, Quills, Aqua Teen Hunger Force: Movie Film for Theaters, Edward Scissorhands, Boys Don't Cry, The Blues Brothers original & 2000, Escape from NY & LA.
TV: Six Feet Under, Game of Thrones, Hell on Wheels, Aqua Teen Hunger Force, Invader Zim, Hoarders, Deadwood, Vikings
2.2  Catacombs
Post Count Achievements

Plastic: 100 Posts
July 2009

Glass: 200 Posts
August 2009

Bronze: 400 Posts
October 2009

Silver: 800 Posts
January 2010

Gold: 1500 Posts
October 2010

Platinum: 2500 Posts
May 2012

Rhodium: 3500 Posts
~May 2014

Palladium: 4500 Posts
Month YYYY

Thread Numbers

Earthen: 25 Threads
Kaena Lykoi

Water: 50 Threads
Kaena Lykoi

Ice: 100 Threads
Kaena Lykoi

Flame: 175 Threads
Kaena Lykoi

Toxin: 250 Threads
Kaena Lykoi (273)

Spirit: 350 Threads
Kaena Lykoi (273), Eris Eternity (147)

Shadow: 500 Threads
Kaena Lykoi (273), Ithiel de le Poer (50), Eris Eternity (147), Myrika Tears (68)

Light: 750 Threads
—

Membership Longevity

White: 6 Months
09 June 2009–09 December 2009.

Grey: 1 Year
09 June 2009–09 June 2010.

Dark Grey: 2 Years
09 June 2009–09 June 2011.

Black: 4 Years
09 June 2009–09 June 2013.

Imploding Supernova: 6 Years
09 June 2009–09 June 2015.

Black Hole: 8 Years
09 June 2009–09 June 2017.

Singularity: 10 Years
09 June 2009–09 June 2019.

Thread Achievements

Peridot: Long Thread
50+ Posts, <3 Participants as Charon Amrithai.

Tanzanite: 25+ AW Threads
1, 2, 3, 4, 5, 6, 7, 8, 9, 10, 11, 12, 13, 14, 15, 16, 17, 18, 19, 20, 21, 22, 23, 24, 25

Membership Interaction

Sparkling Garnet: Donator
Aug 2012, $8.

Shining Pearl: Staff Recognition
Administrated October 2010–present.

Amethyst: Contest Won
—

Snow: Swap Participant
Participated in 2009 Secret Santa.

Dust: Yearbook Contributor
Contributed to 2006, 2009, 2010, 2011, 2012 yearbook.

Starfizz: Community Soul
Became a Community Soul in July 2010 + October 2012.

Ghost: 5x Dead Characters
01, 02, 03, 04, 05

Ruby: 5x Adopted Characters
01, 02, 03, 04, 05

Specialty

Spotlight Soul
July 2009 Spotlight Soul, prior to CS/SS split.

2010 SoSuWriMo
Completed SoSuWriMo 2010 (12 January 2010).

2012 SoSuWriMo
Completed SoSuWriMo 2012 (28 January 2012).

2013 SoSuWriMo
Completed SoSuWriMo 2010 (11 January 2013).

Cupcake: ONE DECADE
Posted during 10th Birthday Weekend
2.3  Guestbook
PLZ LEAVE ME LOVE. ♥
PLEASE FEEL FREE TO LEAVE MY CATS LOVE, TOO. I WILL PASS ALONG ANY GIVEN LOVE IN THE FORM OF DELICIOUS TREATS AND PETTINGS.

This is Cheeques (Chica, but there's also a strip club named Cheeques so we humorously misspell the cat's name). She is my everything. :|

This is Eileen Dover, Three-Legged Lord of the Giant Dog Bed.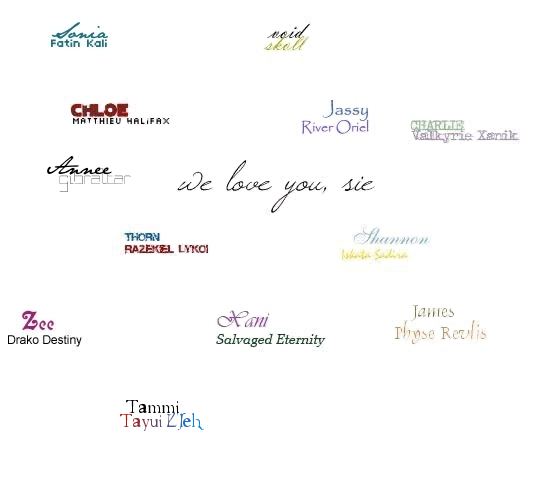 OMG SO CUTE. Sie December 15, 2011, at 06:43 AM EST
iloveasie ♥ Raze
hmm yes, the potato approves of this human. Aly
Sie you are epic, I hope you know just how awesome you are. Lullaby
I expel free love to your cats, and to you as well O.o ~Sammiie
Hiiii Sieloves~ I can't believe I only found this now! ily 4eva n alwayz bb. Seriously. You were my hero back in the day, ahaha. Also, ♥ for kitties of course, from me, Ren, and the cat family (Chael, Toki, Tyber, and Karma) xoxo Xanners
-sniffs- I smell a smell....It's a smelly smell.-sniffs-...A smell that smells....-sniffs- Smelly. OH GAWD IT'S A CRUSTY SIEMUNSTER. -offers a sacrifice- Jmon~
-flies in on magical Pegasus and leaves signature on guestbook- o hai there - Kite

kite says machidael is cool - Kite

HOW. HOW DID I NOT SAY ANYTHING HERE YET? - Gen
supercalifragilisticexpialidocious. ♥ - Mary Poppins'
We miss you Sie :C We hope to see you on 'Souls again! ~Friendly
ilu all over again! I hope you come back soon bc I miss your face <33 ~Sammiie