Temeraire Stormbringer
Temeraire is the illegitimate son of Saul Stormbringer and a lone female by the name of Imari Hart. After being born in the Alaskan wilderness, Imari found Saul on the outskirts of Nova Scotia and handed over her son. Temeraire lived in Ichika no Ho-en as a small pup, then came with his father down to Hilsburn to live with Lilin Soulstorm among others. Temeraire helped to found Vinátta and lived there until he was almost a year old. Shortly before his birthday, Temeraire left Vinátta with his best friend Lena Rhiannon and the pair joined Cour des Miracles in January 2013. After just over a year in the court, Temeraire tires of pack life and leaves Nova Scotia altogether in order to explore North America.
Temeraire Stormbringer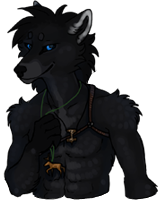 by Alaine
Player

More Info

Basics

Date of Birth

December 20th, 2011

Gender

Male

Name

Meaning

Reckless, rash

Origin

French

Heritage

Birth place

Alaska

Species

Wolf

Subspecies

Luperci

Ortus

Current

Mate

None

Pack

Rank

Squire, Page, Chevalier, Seigneur

Previous

Pack

Rank

Hollr, Aeska
Appearance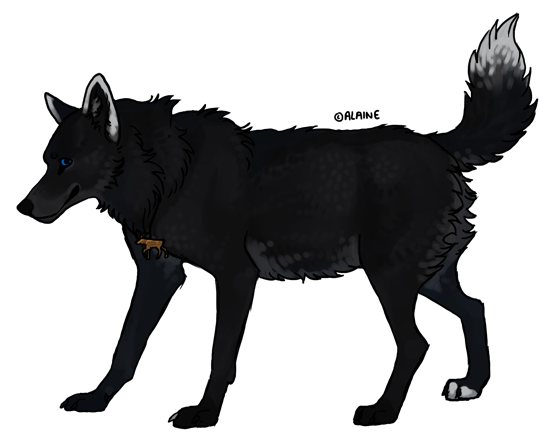 Colouration
Optime Hair:

Woodsmoke (#0a0a0b)

Eyes:

Endeavour Blue (#005cb6)

.
Fur:

Primarily

Woodsmoke (#0a0a0b)

Points

Bombay (#b5b7b9)

and

Shark (#292b30)
Art by Alaine
A male shrouded in shadows, it is no wonder he makes such a good hunter. Cloaked in tones of Woodsmoke (#0a0a0b) he takes from his Stormbringer heritage and the darkness from his mother, Temeraire appears at once unimportant and unique. Despite the darkness that seemed impenitrible, he does display a few areas of colour. The rims of his ears are lightened to a soft Bombay (#b5b7b9), a colour that extends to the tip of his tail and the toes on his right back paw. Furthermore, shades of Shark (#292b30) paint the dark tones a little lighter; most notable on his muzzle and chest and around awkward elbows and joints where the fur runs thinner. Mercifully, Temeraire was blessed with the Stormbringer Endeavour Blue (#005cb6) eyes and as such, his colouring marks him as a 'true' family member.
Build and Species
The males full blooded (albeit mixed) wolf, his build is fairly obvious at first glance. Although he does not represent the biggest or the bulkiest specimens he is a large male at any rate. His Arctic blood lends a slimness to his body; he is sleek rather than stocky and the muscles borne from survival and hard training with staff, bow and knife are wiry as opposed to bulky. Considered tall even in his lupus form, Temeraire wears his height well and has a confident and often demanding presence. As if to display his wolf heritage more obviously, he has the typical slightly rounded ears of a wolf and the broad muzzle to accompany it.
Forms
Lupus

Secui

Optime

118 lbs (50 kg)
35 in (85 cm)

233 lbs (98 kg)
43 in (112 cm)

260 lbs (117 kg)
6ft 10in (206 cm)

Strength is obvious and muscle mass clear in the males lupus form, but there is still a slightness to him that detracts from the formidable hulk that appear in his family. A slimmer muzzle and larger ears hint at his Arctic heritage as well as the thick fur.

A much more formidable form and the slighter appearance of his lupus form disappears. Instead, the man poses a serious threat in this form. A much more mane-like neck and broad shoulders present a wall of muscle mass.

He retains some of his slimness in his optime form, although the muscles are much more obvious here. That being said, his muscles tend to hint more at the wiry end of the spectrum instead of brute strength.
Other
Modifications

Piercings: None.
Tattoos: None.
Scars: None.

Accessories

Frithr necklace
Elk necklace
Carved bow and quiver of arrows
Elk-antler handled knife
Long staff

Clothes

Temeraire does not wear clothes.
Personality
rewrite this business
Ideals
Interests

Traits

Hot-headed, arrogant, driven, oblivious

Outlook: Optimistic
Expression: Extroverted, Dominant
Alignment: Chaotic Neutral

Fears

Motivations

Hedonism, Self-Improvement

Biases

Packs: None
Species: None
Non-Luperci: None
Gender: Generally dislikes males
Color: None
Sexuality: None
Age: None

Sexuality

Heterosexual

Substances

Enjoys Alcohol, hasn't tried much else.

Spirituality

Does not believe in much
Interaction
Speech

Volume: Usually quite normal
Pronunciation: Enunciates well most of the time
Accent: None specifically.

Scent

Cour des Miracles
Personal Scent: Woody
Relationships
Other Relations
Residence

NPCs

Helexia

Species: Draft Horse
Age and DOB: 10 months (08/06/12)
Description:
Personality:
History
Early Life and Ichika no Ho-en
Hilsburn and Moonstone Lakes
Vinátta
Cour des Miracles
Thread Archive
2012
2013
Gallery