The Stormbringer Family

Links

Basics

Statistics & Foundation

Family Tree

ADOPT A STORMIE

Contact Jasanni for Stormbringers without profiles!

Species: Wolf-Dominant
Family Origin: Finland
Surname: Bringer of storms
Archetype (Group): family honor, feud & prejudice, promiscuity, berserker, religious, guardians
Archetypes (Individuals): warriors, pack leaders, good parents, zealots, law abiding
The Stormbringer family is a large one with a long on-board history; Ravyn Stormbringer was first played in 'Souls back in 2002 by creator Jasanni. They are known for their blood feud with the Dawnrunner family, and for being great warriors that occasionally slip into madness.
1.  Influence and Influences
1.1  Families
1.2  Packs
1.3  Genetics
Species
The Stormbringers are wolves, typically Mackenzie Valley Wolf or Eastern Timber Wolf depending on their parentage. Later generations may have more hybridization, and stray from the classic black wolf appearance.
Eye Colour
The Stormbringers have dominant blue eyes in various shades, with some recessive shades of silver and purple not uncommon.
Occasionally, green eyes can be seen. This occurs more often with the presence of Dawnrunner genetics, or outside influences.
Fur Colour
In general, Stormbringers are on the darker end of the spectrum with blacks, browns and greys. This is typical of Mackenzie Valley Wolves.
| | | |
| --- | --- | --- |
| | | The introduction of Dawnrunner genetics gives much lighter colours, including whites and golds. |
2.  Traditions
2.1  Totem Charms
For the Stormbringers located in Nova Scotia and in acquaintance with Saul Stormbringer, a tradition has formed. First seen in December 2010, these small wooden animal charms are symbolic of personality points or traits. Presented by Saul on an important date (i.e birthday, coming of age), these 'totem' charms hold only a sentimental value. After Saul's departure in 2014, his cousin Niernan Stormbringer kept the tradition going, and extended the gifts to several honorary family members as well (indicated with italics).
Years later, in 2018, Alessan took up the tradition for those Stormbringers living in Cour des Miracles.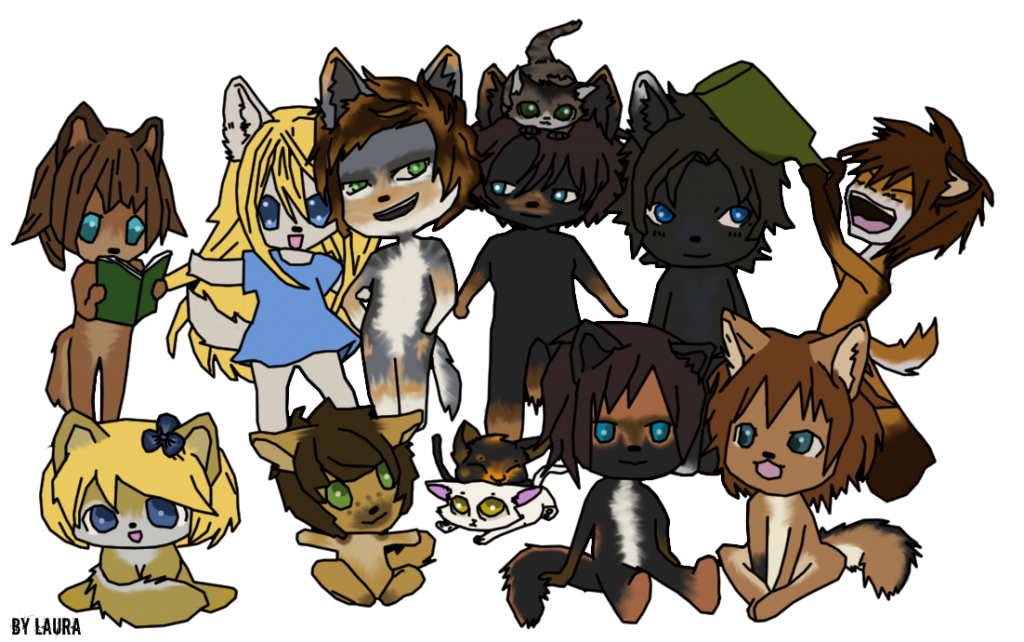 Ascher, Shiloh, Saul, Niernan, Temeraire, Bran;
Sólieri, Rúni, Lochlan, Teagan; Family portrait by Laura
3.  Members
The parent that contributes the Stormbringer gene is bolded.
Δ marks an Open Character with contact details.
3.1  First Generation
3.2  Second Generation
3.3  Third Generation
Rain Oriel x Fly Agaric — 26th July 2005
Draneia Stormbringer x Illskun Sidartha (1) — 15th March 2006
Draneia Stormbringer x Illskun Sidartha (2) — 23rd May 2007

Skripi Stormbringer
Vili Stormbringer

Piper Oriel x Emilio Oriel — 15th June 2007
Draneia Stormbringer x Azrael Napthira Dawnrunner — 23rd April 2009
Lillith Stormbringer x Haku Soul — 21st March 2010
3.4  Fourth Generation
3.5  Fifth Generation
3.6  Sixth Generation
4.  History
4.1  2002-2005: Clouded Tears, Celestial Hollow, Azathoth
It seemed that the Stormbringer line at one time had been destined for extinction. The only two remaining members, twins named Ravyn and Crow, were the sole survivors of a terrible plague that had struck their pack without warning. In the fit of terror, the sister had abandoned her frailer brother as their mother lay twitching in her death-throes, but fate and fortune would prove the twins to be far more hardy and lucky than they'd ever dreamed. Both survived their childhood with the help of fate, even surviving a near-fatal reunion that had pitted the two at each other's throat.
Ravyn Stormbringer was one of the earlier canines of Bleeding Souls, and she was a member of the Clouded Tears pack before Emerald Mist of Storm recruited her for a leadership role in the newly formed Celestial Hollow pack, though Ravyn's term of leadership and the pack were both short-lived. Ravyn returned later and became a member of Azathoth, wishing to exact revenge upon Salvaged Eternity because of his history of violence, and for his rape of Nirupama Rashmi, which led to her death in childbirth. Crow sired an illegitimate daughter, Lillith Stormbringer, by Miska Aloisio in Azathoth.
The twins Ravyn and Crow managed after a time to reconcile with the help of Ravyn's headstrong daughter Rain, and the two had parted ways to establish their futures. Ravyn accompanied her beloved mate, Freak Oriel, back to his homeland, and in the course of Crow's travels he finally met a woman named Surind who could fit with his nature and complete his existence. Each sired many children with their respective mates, many of them possessed of their line's adventurous nature and seeking their own destinies in faraway lands when they'd come of age. Crow came to rule over the Solbjorg Valley and oversaw perpetual feud with the Dawnrunners, and Ravyn became the matriarch of the peaceful Jasper Valley.
4.2  2005-2009: Solbjorg Valley
On the occasional reunion of the matriarch and patriarch of the Stormbringer lines, the twins would touch upon the dark times in their lives only briefly, and always with a warning about something they referred to as "The Darkness" in the Stormbringer bloodline. Family history, which had developed among them into something akin to mythology, alluded that the line was descended from the great Fenris himself, and that as a result they all carried a hint of personality as dark as their most common fur color, and a mind that could sometimes teeter on the cliffs of insanity. Ravyn and Crow both knew what it was like to give into that paranoia and bloodlust, and they made it very clear to their brood that it was a highly unpleasant existence. Crow's line, in particular, had a very detailed demonstration for themselves when he'd snapped one night, killing Drey's father in a murderous rage when he discovered his sadistic abuse of Draneia, Drey's mother and Crow's beloved and gentle daughter.
Dreyrugr Stormbringer, grandson of Crow, was one of those strongwilled children of Draneia. The first few seasons of Dreyrugr's life were somewhat uneventful after his father's execution. There was tension throughout the years, however, as the Stormbringers' arch rivals the Dawnrunners were an ever-present danger. Shortly after the departure of his youngest sister Kol, that danger erupted into a firestorm with a surprise ambush that reignited the ancient war between the two bloodlines. The Dawnrunners attacked in the dead of night, with both sides suffering casualties. The conflict continued for months, both sides calling for aid from extended family and allies, with the end result being an uneasy truce once again. Many of the Stormbringers' friends and relatives have remained in the Valley for the time being, just on the off chance that the fire could erupt yet again.
Bris, Brandr, and Vedr were born to Draneia, giving Dreyrugr and Kol younger siblings to look after. The revelation that Bris' mother had not only been forced to bear children, but that the mating was carried out by a zealous member of the Stormbringers' arch enemies, the Dawnrunners, had horrified the pup. Kol had done what she could to comfort her, and Bris had promised not to let on that she knew the truth, but the knowledge had begun to eat the girl inside. The condemning glances and whispers seemed to grow louder and more intense, the young wolf's imagination lending the gestures more severity. She was the daughter of a demon; her very presence cursed the pack. It mattered little that her littermates bored the same taint, for she was the only one whose curse was broadcast by her very appearance. The most common coat color amongst the Stormbringers was a beautiful, sleek black. Most other colors were usually of some deep, dark shade. Bris' glaring white pelt stood out like a cursed moon amongst the shadows, making her the central focus of her family's derision.
4.3  2009-2012 Dahlia de Mai & Ichika No Ho-en
Bris chose not to remain where she was unwanted and instead returned to the lands of Souls where she'd decided to make her life in Dahlia de Mai along with Kol. Dreyrugr was more comfortable knowing that there were plenty of able-bodied family members to protect the Stormbringer pack, the russet male set off in his sister's footsteps, wondering just what was so great about where she'd been. Here, he met Alexey Koios, the woman he still deems his soulmate, though he lost her due to nothing but his own choices. Kol finds her mate, Elliot Oriel. Crow's daughter Lillith Stormbringer resurfaces during the First Dahlian War, becoming partner and consort to the warlord Haku Soul. When she conceives Lilin Soulstorm, she deserts his side and vanishes back into the shadows, presumably because she got what she desired all along.
In an ambush led by Azrael, siblings Dreyrugr and Kol are imprisoned within the Dawnrunner pack. Dreyrugr developed feelings for one the Dawnrunner females, Abigail, before Drey and Kol escaped from their imprisonment with the valiant help of Elliot Oriel. The pair fair a few secret meetings and nights of passion before their pups are conceived. In March 2010, Saul, Gideon, Ascher and Shiloh were born in the Solbjorg and after trying to escape with them to get to Dreyrugr, Abigail is banished by Azrael for her involvement with the enemy. Scared for the fate of her children, Abigail took flight across the continent to try and find refuge in Nova Scotia. Unfortunately, Abigail's mother Zia followed her, intent on eradicating the Stormbringer pups. On the top of the Halycon Mountain the two fought and Zia managed to kill Abigail as she tried to defend her children. Badly injured from the fight, Zia flees. The pups find their sympathetic Aunt Bris in Dahlia de Mai.
Around the same time, Kol and Elliot heralded the birth of their beautiful offspring, a true miracle that they had survived the torturous captivity their mother had faced at the hands of Azrael. For a time, life in Solbjorg, surrounded by her loving family, had been idyllic. That had been until the first of her children had grown ill. The sickness spread quickly to the young pup's siblings, and nothing anyone could do seemed to lessen their suffering or soothe the ailment. One by one, the children of Kol and Elliott slipped into eternal sleep, taking with them the last bit of love their mother had for her homeland. Kol rejoins Dahlia de Mai and vows never to return to Solbjorg. In the aftermath of the Second Dahlian War, she and Bris are attacked by a vengeful Hybrid Holocaust of Inferni, and in protecting her sister, Kol is killed.
After mourning her sister's death, Bris becomes mate to Conor Soul, and they conceive a daughter, Eclipse Soulstorm. After a tumultuous start to life, Saul, Gideon, Ascher and Shiloh eventually settle in Dahlia de Mai. Gideon rescues a pair of abandoned puppies named Melee Soul and Range Soul, and adopts them as his own. The Snowstorm in February 2011 affects their family, where Shiloh and Ascher find themselves lost and return to the Solbjorg. Saul and Gideon remain and eventually help to found Ichika no Ho-en.
Brandr's adult sons, Niernan and Bran, leave the Solbjorg Valley early in 2011 to travel through the continent and discover more about the world. In the fall, Saul had a drunken one night stand with a female on his search for Gideon, who went missing. On returning to Nova Scotia, Saul is delivered his weeks-old son Temeraire, and enlists family friend Nayru to nurse him.
In the Solbjorg Valley, the long-reigning Crow Stormbringer finally retired, stepping down to play the grandfatherly role of adviser to his chosen successor, Wraith. Wraith has shown to be more like his grandfather than anyone could predict, inheriting his strong penchant for leadership in addition to the patriarch's particular dark quirks. The new alpha's enjoyment of life's darker pleasures has led to many illegitimate children, none of which he chooses to claim and allow into the larger Stormbringer clan. This has led to the deaths of many of his lovers and children at the fangs of the Dawnrunners, who have learned of his trysts and sought to exterminate the influence of Stormbringer blood.
4.4  2012-2014: Vinátta, Cour des Miracles, Cercatori d'Arte, & Sapient
The Nova Scotian Stormbringers gradually drift away from Ichika No Ho-en, and lose touch with each other for a time. Saul and Temeraire are joined by Niernan and Bran, and eventually meet up with Lilin Soulstorm and Miskunn Stormbringer (Dreyrugr's sister). They tire of living as loners, and want to make a home for themselves. In May 2012, Saul and Lilin found the pack Vinátta alongside family and friends. Over the summer, the co-leaders fall in love and become mates. Lund, Rúni and Sólieri are born from this union of cousins.
After discovering that the Dawnrunners are plotting to move the feud over to the extraneous members of the Stormbringer family in Nova Scotia, various relatives from the Solbjorg make the journey across the country including Gideon, Shiloh, Ascher, Eydiss, Elessari, Gunnarr, Kelda, and Logan at various stages throughout 2012 and 2013. Most only stayed temporarily and chose to leave once Vinátta's safety was secured — including Saul's eldest son, Temeraire, who unexpectedly moved to Cour des Miracles with his companion Lena.
In the fall of 2012, Dreyrugr tracks down a group of Dawnrunner scouts around Vinátta's borders and a fight ensues. After killing one of the group they leave and Dreyrugr arrives on Vinátta's borders for a brief reunion with his son Saul, though once Dreyrugr recovered, he returned to Solbjorg. Niernan and his partner Grace delivered their offspring Lochlan and Teagan safely into the pack. In Cercatori d'Arte, Eclipse goes into her first heat and mates with Aro Marino but unfortunately miscarries the pups. Not long after, she becomes mates with Robert and gives birth to their son Jack Frost Collins. Grace, on the other hand, found motherhood did not suit her and in December 2012, she abandons her children and leaves Niernan to raise them alone. By the spring of 2013, history repeats itself and Lilin dissolves her mateship to Saul and leaves Vinátta, taking their eldest Lund with her.
Happiness came in the form of Shiloh's unexpected pregnancy with Cour des Miracles leader Silvano Sadira. In June 2013, their children Abigail and Alessan were born healthily into Vinátta. Two days later, Niernan agrees to take in a second child ex-lover Grace cannot look after. He asks Shiloh to raise the pup with her own children and she names the female Dreyma. The summer of 2013 sees many of the Vináttan Stormbringers going to war in the Ironside Conflict. Abigail and Alessan were kidnapped but reclaimed unharmed, and Saul, Niernan, Ascher, and Bran are notably involved in the various battles.
In the aftermath of the conflict, Niernan and Vinátta's Sannindi Colibri Haki declare their love for one another and become mates. Around the same time, Ascher kindles a forbidden romance with Sequoia Exultare of Sangi'lak that results in a pregnancy. Since their packs are on poor political terms, the affair is largely kept secret until Orvar and Bel are born. Sangi'lak disbanded when the Nomads journeyed back to their homeland; rather than risk the lives of her newborns, Sequoia Exultare makes the difficult decision to leave her pups behind with their father before she embarks on the pilgrimage. He enlists Colibri Haki as their wetnurse, as by that time she is pregnant with Niernan's children. By the end of autumn, Colibri gave birth to Russano, Fionna, and Ninian.
Early 2014 was a tumultuous time darkened by the disappearance of Sólieri, who was kidnapped by a lone male. Saul devoted tireless efforts to recover her, but to no avail. Abigail chose to join her father's pack, Cour des Miracles, reuniting her with her cousin Temeraire but separating her from her mother Shiloh. Bran confessed his love for Palaydrian Soul, having finally found a woman he was willing to settle down with and become mates. Bran's nephew and protege, Lochlan, was not so lucky, as his increasingly conflicted feelings for Carya Aston and Iris Storm lead him into trouble. Finally Saul could no longer justify remaining in Vinátta with Sólieri missing, and chose to abdicate rule and leave them.
In the wake of Saul's departure, Bran and Ascher notably stepped into council roles and helped stabilize Vinátta while Florina takes over the leadership role. The birth of Ode and Shore, the daughters of Ascher and his new bride Aspen, was heralded as a joyful occasion for the mourning Stormbringers. Only a couple of months later, Bran and Palaydrian welcomed Akara, Izrian, Ahti, and Sylven, followed by the birth of Myrkr, Thyri, and Sága to Shiloh and Silvano. Sadly, Sága died in infancy due to complications following Shiloh's exposure to poison weeks earlier. Shortly after a fight with his mother, Shiloh, Alessan left Vinátta to help found the new pack Sapient.
4.5  2014-2017: Vinátta, Krokar, Cour des Miracles, & Casa di Cavalieri
In the early months of 2015, Solieri was unexpectedly found by Valerian Coeur, though she decided not to return to Vinátta, and Niernan took his mate, Elessari, and children, Teagan, Fionna, Russano, and Ninian to visit the Solbjorg Valley for an undetermined amount of time. Later that year, Russano and Fionna returned to the pack while Sylven, Shiloh, and Myrkr all left Vinátta in order to lead new lives. That same year, Ascher went on an extended trip to help his daughter, Bel, find her mother.
Ascher resurfaced early in 2016 and, after months of confusion surrounding his missing memories, he recounted that Bel was killed. He later returned to Vinátta after a short stint in Sapient. Meanwhile, following a meteor strike, and revelations about her role in an altercation in Krokar, Thyri decided to leave Vinátta, believing she could do more good for the community as a whole in Casa di Cavalieri. Florina stepped down from her role as Sannindi to accept a more comfortable rank as Araedi Ríkr just a month later, allowing Izrian to succeed her as Vinátta's leader. Thyri later left the area altogether late that year to search for a missing friend while her brother, Alessan left Sapient to join his father and littermate in Cour des Miracles. Gaia and Serena were born in September 2016 to Shiloh and Silvano in Cour des Miracles.
2017 proved to be perhaps the most difficult for the Stormbringers. Seeking revenge for the death of their patriarch, who had had a tryst with Ascher's daughter, Bel, and took his own life as a result, the Blackbourne family attacked and terrorized Vinátta for nearly a month. Though they persevered and managed to defeat the Blackbournes, a mysterious sickness struck later that spring that rendered the Sannindi, Izrian ill. She disappeared in May 2017 and, despite weeks of searching, could not be found. Vinátta dissolved in the wake of her disappearance, scattering many of the Stormbringers to nearby Krokar.
4.6  2017-Present Day: Cour des Miracles, Krokar, & Mistfell Vale
Thyri returned to the area early in the year and decided to join her parents and older siblings in Cour des Miracles while her littermate, Myrkr, left Krokar to live the life of a loner. He eventually joined a group of dogs, the Blackrusts, and helped them out with their tavern, Biff's Bar. In August 2017, Sylven and his mate, Iroquois, welcomed their first litter in Krokar: Tintri and Yuka. Three months later, in Cour des Miracles, Abigail, now a leader alongside her father, King Silvano, gave birth to Cicely and Ajax, fathered by Casa di Cavalieri's Kira.
In December 2017, Cicely, Ajax, and Silvano went missing. Ajax returned with Silvano's severed hand only days later and, in the beginning of 2018, Mistral de l'Or usurped the throne and launched Cour des Miracles into The Winter of Tarnished Gold. In the resulting unrest, wherein the Stormbringers of the Court remained steadfast in their loyalty to the King, Thyri was severely wounded and Shiloh was brutally killed by Queen Mistral — the very woman who had poisoned Shiloh while she was pregnant with Myrkr, Thyri, and Sága. However, Shiloh's death drives the Courtiers to rise up and take back their kingdom. After Mistral is executed, Shiloh is cremated and half of her ashes spread in former Vinátta territory.
In the Mainland, Tristan, firstborn son of Solieri and Valerian, found himself in the lands where his parents were born and joined Mistfell Vale.
---