Orvar Stormbringer
Orvar Stormbringer is the son of Ascher Stormbringer and Sequoia Tlu'gv, conceived of a forbidden romance between two feuding packs. He was born in the former territory of Sangi'lak just after its disbandment, and was brought to Vinátta to be raised by his father in a stable environment.
Orvar Stormbringer
By Raze
Player

More Info

Basics

Birthdate

4 November 2013

Gender

Male

Heritage

Family

Stormbringer
Dawnrunner
Tlu'gv

Birth place

Species

Wolf

Subspecies

Luperci

Ortus

Current

Pack
Vinátta
Rank
Aeska
Coranks

Previous

Ranks
1.  Appearance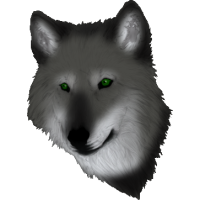 Orvar's pelt is dark, cloaked in the traditional greys and blacks of the Stormbringer family. As if to make his lineage even more obvious, Orvar's vivid green eyes are the exact shade of his grandfather Dreyrugr. However, his mother's influence is not lost on him; his palette draws on her natural stone-grey base coat and Mackenzie Valley Wolf build. He is larger than his sister, and may outgrow his parents. He has a preference for his Optime form, and wears a Frithr necklace of Vinátta as well as a wooden mouse pendant. To be expanded by adopter!
1.1  Coloration
Japanese Laurel (#116700)

- Eyes

Fuscous Gray (#4D4D49)

- Main fur

Tuatara (#30302D)

- Forelegs, Back Saddle

Cod Gray (#161515)

- Collar, Nose Stripe, Ear Cap, Underside of Tail, Paws

Iron (#CFD2D6)

- Underbelly, Right Hindpaw, Eyebrows, Throat
1.2  Forms
Lupus

Weight: xx lbs (xx kg)
Height: xx in (xx cm)

Description to be added by adopter.

Secui

Weight: xx lbs (xx kg)
Height: xx in (xx cm)

Description to be added by adopter.

Optime

Weight: xx lbs (xx kg)
Height: xft xin (xx in) (xx cm)

Description to be added by adopter.
2.  Personality
Known for being a gentle giant, even shy at times, with quiet strength. See his father and mother for traits to draw on.
2.1  Demeanor
A few bullet points, quirks, and other information might go here.
2.2  Ideals
Interests

Likes: snuggling, nursing, sleeping, warmth
Dislikes: cold, hunger, pushy siblings

Traits

roly-poly puppy

Fears

Motivations

Biases

Packs: TBD
Species: TBD
Non-Luperci: TBD
Gender: TBD
Color: TBD
Sexuality: TBD
Age: TBD

Sexuality

Shh he's a baby

Substances

Keep that stuff away from the baby

Spirituality

babythings
3.  Interaction
Speech: squeaks and yelps
Scent: wolf milk
4.  Relationships
4.1  Key Relations

4.3  Other

Relations

Colibri Haki was a surrogate mother during the earliest months of his life.

Family Relations

Minor Relations

Former Relations
5.  History
5.1  2013
November: Orvar is born. Sangi'lak is disbanded and the Nomads are journeying back to their birthplace; rather than risk the lives of her newborns, Sequoia Exultare makes the difficult decision to leave her pups behind with their father Ascher Stormbringer.[1] He enlists the pregnant subleader Colibri Haki as their wet-nurse.[2]
December: Bel and Orvar are weaned, and Ascher begins to take them on small outings around Jordheim. One such exploration ended poorly when Fiora vin Haki's semi-feral horse accidentally trampled Bel's tail, breaking it.[3]
5.2  2014
January: Orvar undergoes the Ausa Vatni ceremony in front of the pack, and receives his Frithr necklaces and a blessing.[4]
May: Orvar shifts for the first time, with the assistance of his father.[6] Niernan presents him with a Stormbringer family totem charm, a mouse.[7]