Elessari Stormbringer
Elessari Stormbringer is the daughter of Aracelle Akara and Brandr Stormbringer, and is a future member of Vinátta. She was born in the Solbjorg Valley, and grew up amid the Stormbringer-Dawnrunner conflict.
Elessari Stormbringer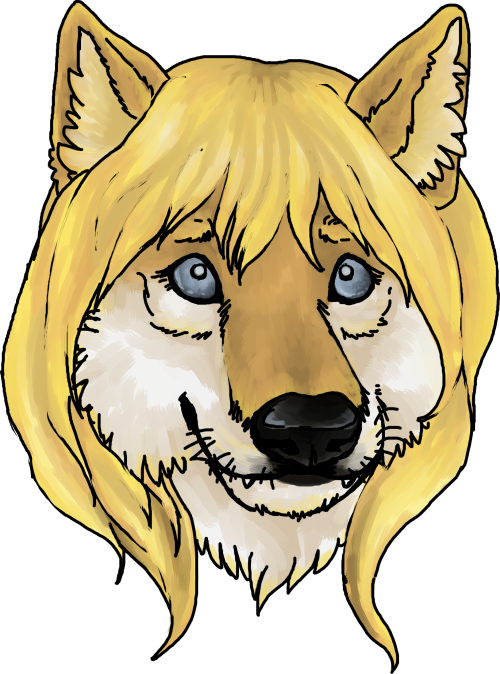 by Miyu
1.  Appearance
Elessari is a pretty Irish lass. Her glossy honey-colored pelt is lighter than that of her brothers and father, emulating her Arctic Wolf heritage and possibly the Dawnrunner influence. When shifted, her mane is blond. Her eyes are a darker Stormbringer blue, like many of her relatives. Height/weight/build to be determined by adopter.

Lines by Hlaorith
Colored by Miyu
Twine (#BF9654)

-- Darkest fur color, topside.

Concrete (#F2F2F2)

-- Lightest fur color, underside and legs.

Golden Sand (#F4DF72)

-- Scattered highlights, Optime hair.

Shuttle Grey (#536373)

-- Eye color.
1.1  Forms
Lupus

Secui

Optime

xx lbs (xx kg)
xx in (xx cm)

xx lbs (xx kg)
xx in (xx cm)

xx lbs (xx kg)
xxft xxin (xx in) (xx cm)

Describe Lupus form.

Describe Secui form.

Describe Optime form. In Optime form, some characters choose to style their hair -- if this is the case, how does your character usually wear it?
1.2  Modifications and Accessories
Location, description to be added by adopter.
2.  Personality

By Djiacamo
Elessari is probably the least creative minded of the three siblings, although she does enjoy reading at times. Her interests lie more in caring for others, and she is very nurturing. She is loyal, particularly to her family, and her relatives are the most important thing to her. She loves pups, and enjoys watching over them. She, like much of her family, has a strong affinity for animals, particularly horses. She has her own mare, Fionnait, a pretty buckskin that she helped train. She isn't a strong supporter of violence, but she does know how to fight, and prefers to use a bow and arrow if available. She is also capable with a knife. She is usually fairly confident, despite the slight bias against her due to her lighter coloring. She strives to do the best she can, and because she has experienced how uncomfortable it can be to not be fully accepted for who she is, she tries to give everyone a chance. She is religious, but not as much as her aunt Miskunn. She is quite romantic, and hopes one day to have a mate and pups of her own, but at the moment, she is content keeping an eye on her brothers (who are just thrilled about that, surely) and her younger relatives.
3.  Relationships
Having lived in the Solbjorg Valley all of her life, Elessari's relationships would largely consist of the Stormbringer family. Her brothers Bran and Niernan were always closer with each other than her, but her exact feelings toward them would be up to the adopter. Her uncle Emeris was very involved in raising his nephews, so she may or may not have developed a close relationship with the bare-knuckle boxer. She might be familiar with her cousins Shiloh, Gideon, and Ascher, as well as their father/her uncle Dreyrugr, (but not Saul since he spent more time away from the Valley); but again, the adopter is encouraged to contact their players to discuss how Elessari feels about them and how well she knows them. (If you would be more comfortable assuming they are meeting for the first time, that is up to you!)
She has other relatives in Vinátta that she is not yet aware of, such as her brother's children, Lochlan and Teagan. Her aunt Miskunn is a prominent spiritual leader there. Lilin Soulstorm and her children with Saul would also be her cousins. There is also Eclipse Soulstorm, the daughter of her aunt Bris. Any past friendships or romances are free to be added by the adopter!
4.  Family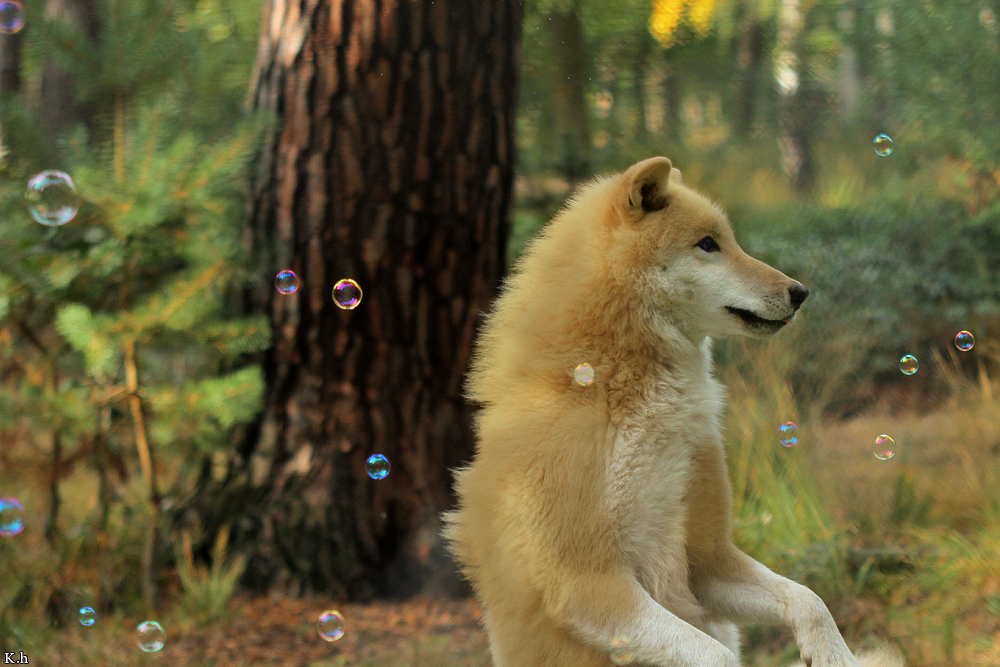 Stock photo by Dawnthieves, manip by Miyu
Immediate Family
5.  History
Her father, Brandr Stormbringer, was born and raised in the Solbjorg Valley, while her mother, Aracelle, was born and raised in Ireland with her brother Emeris. Aracelle and Emeris travelled across from Ireland to mainland America looking for adventure and a new life. Here they found the Stormbringers and their new home. Aracelle and Brandr very quickly fell in love and their pups came along soon after.
They have three pups in June 2010, Niernan, Bran, and Elessari. The pups were loved and highly valued among the Stormbringer pack. As they grew their personalities became more and more prominent and it was evident that Elessari was a good little girl while the boys were little terrors. The pack was still incredibly fond of the pups but they showed their exasperation with the constant pranks and mischief that emanated from the male pups.
In 2011, Brandr was involved in a raid orchestrated by the Dawnrunners and sustained a few injuries. Luckily no lasting or serious damage was incurred. Life in the Stormbringer valley was otherwise uneventful for the boys and it didn't take long for Bran and Niernan to realise that they wanted to get away from pack life. They decided that they would travel and once they reached an age where they could leave the pack they did so. Elessari was always closest with their mother, Aracelle, and chose to remain in the Solbjorg Valley for much longer.
History after this point would be largely up to the adopter, should be discussed with Honey upon adoption!
5.1  Timeline
YYYY
Month
5.2  Threads
YYYY
5.3  Gallery