Ty Kido
---
THIS CHARACTER IS NO LONGER UP FOR ADOPTION
---
Ty Kido is the youngest son of Kenna Foxleigh and Adrian Kido. He is a wolfdog, born into Cercatori d'Arte in autumn 2013.
Ty Kido
by Nat
Player

NPC of Westy

More Info

Basics

Date of Birth

15 November 2013

Gender

Male

Heritage

Family

Birth place

Species

Wolfdog

Subspecies

75% Common Gray Wolf
25% Dog (Rough Collie)


Luperci

Ortus

Currently

Current pack
Cercatori d'Arte
Current rank
Youth NPC

Previously

Pack
Ranks
Cheese? (I)


DD Mon YYYY - DD Mon YYYY

Puppy, Beta, Alpha
Appearance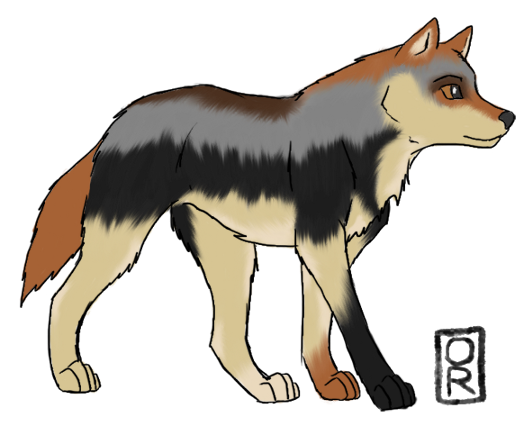 Coloration
Eyes: heterochromia,

Brown Rust (#AC743C)

(right) and

Royal Blue (#2B7DE3)

(left).
Fur:

Raffia (#E9D7BB)

left hindpaw, highlights.

Pavlova (#D7C593)

underside, hind legs, cheeks, throat.

Brown Rust (#A66235)

muzzle blaze, ears, tail, left forepaw.

Metallic Bronze (#492E1D)

back saddle, mane.

Boulder Grey (#838383)

forehead, upper sides.

Cod Grey (#1C1C1C)

lower sides, right forepaw.
Ty's appearance blends traits of his mother and father, but overall resembles a wolf more than a dog. (Photo.) His coat is a banded mix of greys and blacks, offset with cream and warm shades of brown, drawing from his Kido palette. His eyes are bi-colored, the right being his father's honey brown and the left his mother's sky blue. (This is the inverse of his big brother Faolan.) While overseas, he earned a scar on his chest during a knife fight with a mutinous crewman on the ship. He has gained a lot of muscle from his work on board as well. He primarily used Optime form on the trip, but once home, he will return to using his Lupus form more often than not.
Accessories
He prefers Lupus form, but when in Optime he could wear a brown cowboy hat and a pair of cut off jean shorts. See Optime Reference by Westy.
Personality
Gentleman, protective, wise beyond his age, understanding, loyal, "animal whisperer", empathic, quiet, somewhat quick tempered. After his time at sea, Ty has become very protective, dutiful and strong-willed. He would do anything for his mother and sister. He's not very talkative, but when he does say something it's usually something important or wise. He has a secretly bitter side of him since he blames himself for not being a better protector of his sister while on the merchant ship and secretly is living with a broken heart as a relationship with his crush on his journey never really took off. He's also had to kill someone before (the man who harmed his sister), and so he's a little emotionally/mentally scarred about it from having to do so at a young age.
Demeanor
Outlook

Optimist/Pessimist, to be expanded on by adopter
Extrovert/Introvert, to be expanded on by adopter
Dominant/Submissive, to be expanded on by adopter

Behavior

Fears: can be added by adopter
Motivations: can be added by adopter
Traits: can be added by adopter
Alignment: True neutral, can be added by adopter
Relationships
Key Relations

Characters: Here is where you might describe especially important family members (e.g., if your character has a close, competitive relationship with a sibling, describe it here) or friendships or whatever else.

Minor Relations

Former Relations
Residence
Ty resides in the Territory of Cercatori d'Arte in his parent's tiered two story stone house in the Town Square to the East side of Thornbury. The house is spacious and not all rooms are utilized. The upstairs master bedroom and the second guest room beside it are the only occupied rooms. Otherwise the family can be found relaxing in the living or family room or eating in the kitchen.
History
Born November 8th, 2013 to Kenna Foxleigh and Adrian Kido alongside his sister Oakley and half-sister Kjintora. In June 2014, Ty and his sister Oakley and mother went overseas to Europe on a merchant ship. During this time, Ty survived as part of the crew on the ship and acting as a body guard over the trading goods on board. He had a crush on the captain's daughter, and even rescued her from a shark attack during the journey (which earned him two mules of his own in thanks), but their relationship never took off very far. He now returns with his family to Nova Scotia, eager to return to his old home pack.
Timeline
YYYY
Month
Threads
2013