Oakley Foxleigh
---
THIS CHARACTER IS NO LONGER UP FOR ADOPTION
---
Oakley Foxleigh is the daughter of Kenna Foxleigh and Adrian Kido. She is a wolfdog, born into Cercatori d'Arte in autumn 2013.
Oakley Foxleigh
by Nat
Player

NPC of Westy

More Info

Basics

Date of Birth

15 November 2013

Gender

Female

Heritage

Family

Birth place

Species

Wolfdog

Subspecies

75% Common Gray Wolf
25% Rough Collie (Dog)


Luperci

Ortus

Currently

Current pack
Midnight Shores
Current rank
Youth NPC

Previously

Pack
Ranks
Cheese? (I)


DD Mon YYYY - DD Mon YYYY

Puppy, Beta, Alpha
Appearance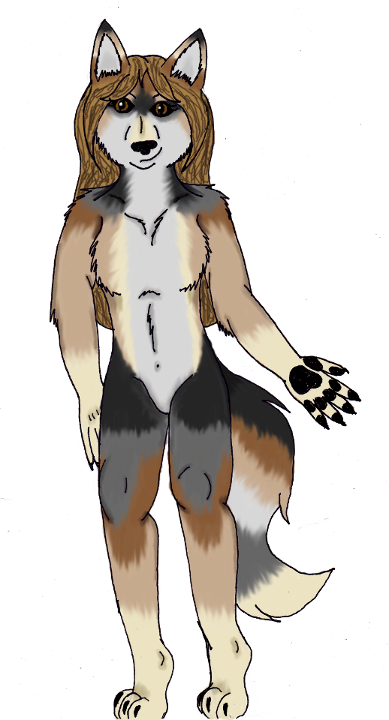 Coloration
Eyes:

Raw Umber (#6C4211)

Fur:

Alto (#D7D7D7)

underside, cheeks.

Raffia (#ECE3C3)

paws, tail tip, muzzle blaze.

Indian Khaki (#C6AA8E)

forearms/legs, facial mask, sides.

Potters Clay (#865934)

shoulders/knees, forehead, mane.

Dove Grey (#666565)

thighs, collarbone, eyeshadow.

Mineshaft (#252525)

hips, back saddle, spectacles, ear tips.
Oakley appears more wolf than collie, more wolfish than any of her other siblings. (Photo.) Her pelt is a mix of colors from her parents: dusty brown, brown, light grey, dark grey, black, light cream and with golden highlights. She has her father's honey brown eyes. Her Optime mane is dirty-blonde and generally worn long down her back. She will be on the fit but curvy side, like her mother. She has acquired a twisted scar across the top of her left wrist from a knife blade which was drawn across it by a mutinous crewman who tried to take advantage of her on board the merchant ship she and her mother and brother were traveling on overseas.
Accessories
She will wear a modified pleated denim mini-skirt and a tan, woven leather, tasseled tank top, usually with a brown, braided, leather belt made from a section of an old bull whip when in Optime form.
Personality
Optimistic, curious, outgoing, bright, observant, intuitive, protective, endearing, slightly clumsy. She has a knack for roping (lasso) on horseback. She also will have an unfortunate knack for getting into situations that unintentionally get her into trouble. She is very fond of horses. After her time overseas, Oakley has become a lot more strong willed and has learned to defend herself. She is fairly quiet and obedient, but she is not as helpless and innocent as she may appear. She is a hard worker, loyal and driven by survival and proving herself. She is wary of getting close to anyone romantically after being attacked and nearly raped on board the ship she and her family were traveling on, by a shady crew man.
Demeanor
Outlook

Optimist/Pessimist, to be expanded on by adopter
Extrovert/Introvert, to be expanded on by adopter
Dominant/Submissive, to be expanded on by adopter

Behavior

Fears: can be added by adopter
Motivations: can be added by adopter
Traits: can be added by adopter
Alignment: True neutral, can be added by adopter
Relationships
Key Relations

Characters: Here is where you might describe especially important family members (e.g., if your character has a close, competitive relationship with a sibling, describe it here) or friendships or whatever else.

Minor Relations

Former Relations
Residence
Oakley resides in the Territory of Cercatori d'Arte in his parent's tiered two story stone house in the Town Square to the East side of Thornbury. The house is spacious and not all rooms are utilized. The upstairs master bedroom and the second guest room beside it are the only occupied rooms. Otherwise the family can be found relaxing in the living or family room or eating in the kitchen.
History
Born November 8th, 2013 to Kenna Foxleigh and Adrian Kido alongside her brother Ty and half-sister Kjintora. In June 2014, Oakley and her brother Ty accompanied their mother on a trip overseas to Europe. During this time, Oakley grew up quickly and learned what it takes to survive in the harsh real world. Under the protective instruction of her mother, Oakley provided services to the crew of the merchant ship while traveling by cooking and providing entertainment in the form of singing, dancing and guitar playing while on board. She now has returned to Nova Scotia with her mother and brother in hopes of reuniting with her home pack.
Timeline
YYYY
Month
Threads
2013