Kale Noelani
---
THIS CHARACTER IS NO LONGER UP FOR ADOPTION
PAGE UNDER CONSTRUCTION!!! Adoptive player may use their own template. Any fields not filled in are meant for the adoptive player to complete where as filled in fields have room to be expanded upon but are preferred to be used as baselines.
---
Kale is the son of Kaiolohia Noelani and Rowan Foxleigh, and sister of Malia Noelani born in Wyoming U.S. He will eventually set out on his own alongside his sister at the age of 8 months and make his way to Nova Scotia where his parents once lived and join their old pack, Cercatori d'Arte. As of right now, he is still very young and resides with his parents in California, U.S.
Kale Noelani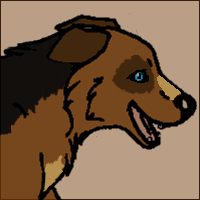 by Westy
1.  Appearance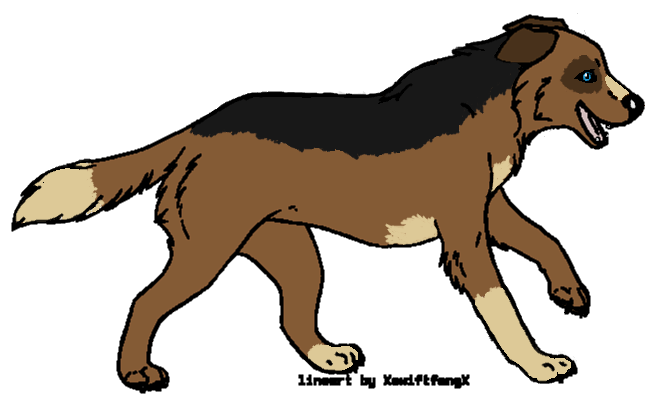 Kale's appearance stems primarily from his dog heritage, the recessive genes in his bloodline.
1.1  Build and Species
Built slightly stocky but sturdy with lean muscle. His pelt is longer in length than his sister's due to the collie in his blood.
1.2  Coloration
He is colored primarily a base of light brown(#8B4513) with cream (#E8C782) covering his right foreleg in a sock and his left hind paw upon his toes as well as a wide patch on his chest, a wide stripe along this bridge of his nose and on the tip of his tail. A "blanket" of dark ash grey (#292929) extends from the back of his head, partially down the sides of his neck, down along and covering his back stopping just at the base of his tail. His folded ears are a medium-dark brown (#603311) as is a patch over his right eye.
Optime Hair: He has

deep brown (#423024)

, messy, slightly wavy shoulder length hair, some straggling strands fall handsomely into his face.
Eyes: His right eye is

piercing blue (#009ACD)

, where as his left is

deep gold (#FF9912)

.
1.3  Forms
Lupus

Secui

Optime

xx lbs (xx kg)
xx in (xx cm)

xx lbs (xx kg)
xx in (xx cm)

xx lbs (xx kg)
xxft xxin (xx in) (xx cm)

Dog like and stocky.

Larger than Lupus form but virtually the same.

Prefers Optime form. His muscle tone shows more pronounced in this form.
1.4  Other
Modifications

Piercings: None.
Tattoos: None.

Accessories

Unlike his mother or sister, Kale does not have a lot of wearable items to his name.

Necklace: A cord necklace with a coconut wood carved pendant of a sea turtle on it.

Clothes

Typically he can be seen wearing only a pair of khaki, deep-pocketed beach shorts. He will put on a cloak when traveling through colder weather.
2.  Personality
Open for expansion by his adoptive player. See his mother and father's information for some good ways to mix their personalities into his.
2.1  Demeanor
A few bullet points, quirks, and other information might go here.
2.2  Ideals
Interests

Likes: The ocean, running, poi dancing, fire-play, animals, etc.
Dislikes: Cloudy days, etc.

Traits

Positive: Playful, fun-loving, outgoing, protective, loyal, loving, flirty. Negative: Stubborn, easily bored, show off.

Outlook: Optimistic/pessimistic?
Expression: Extroverted/introverted, dominant/submissive?

Fears

Motivations

Biases

Packs: Thinks Cercatori d'Arte is the best pack.
Species: None.
Non-Luperci: None.
Gender: None.
Color: None.
Sexuality: None.
Age: None.

Sexuality

Heterosexual. Attracted to lighter colored females. Loves to flirt and try to impress. Feel free to expand!

Substances

What substances has your character tried? Are they highly experimental or not at all inclined to try? Do they have an opinion on those who do indulge in "illicit" substances?

Spirituality

Describe your character's spirituality. What do they believe? Do they believe in (a) higher power(s)? Do they perform rituals? What do they believe after death? Do they have a creation myth? Maybe this section is long enough to require more space.
3.  Interaction
Speech: Boyishly charming with a slight exotic accent.
Scent: Brine, wood-smoke, spring grass.
4.  Relationships
4.1  Key Relations

Kaiolohia Noelani: Kale's mother. He is very close to her.
Rowan Foxleigh: Kale's father. He thinks highly of him.
Malia Noelani: Kale's sister. He gets along well with her, they are very protective of each other and playful. He loves to tease her.

4.3  Minor Relations

You might want to just keep a simple list of characters your character has encountered, or you might want to describe them, or whatever.

4.4  Former Relations

Dead and inactive characters should go here.
4.5  NPCs
Malia Noelani
Kale's sister. (NPC until adopted. Otherwise Kale is Malia's NPC until adopted.)
4.6  Abilities
Strengths

Traditional poi and hula dancing.
Playing pahu drums and flute.
Fire play.
Hunting.
Hand to hand combat.

Weaknesses

Can be easily upset if he's called out when showing off.
4.7  Inventory
Trade
Describe your character's trading here -- are they open for lots of trade? Where can others seek them out to trade? Are there any "caveats" about trading with your character (e.g., is your character a slimeball looking to screw everyone over -- HI ERIS)?
Offering: Things your character can offer.
Accepting: Things your character wants.
Items
Category of Things

Your character has a thing.
Your character has a thing.

Category of Things

Your character has a thing.
Your character has a thing.
Your character has a thing.
5.  Achievements
Pack Game
Catacombs
Go get your Catacombs and put it here; else delete this section.
6.  History
Born in Wyoming, United States Kale has been traveling with her parents and sister since birth in their quest to return to Hawaii. They're currently in California but Kale wants to go back to Nova Scotia along with Malia to check out his parent's old pack, Cercatori d'Arte.
6.1  Timeline
YYYY
Month: This section is most useful for detailing what happened before your character came to 'Souls, since that is not included in the lower thread archive section. Some players choose to continue their timeline history with important events from the thread archive while other players are content to use this section solely as a "before 'Souls" section.
6.2  Threads
YYYY

[M]

(NPC) [1]? (DD Mon)
AREA?, with CHARACTER?. Example of mature thread where your character was an NPC.

YYYY