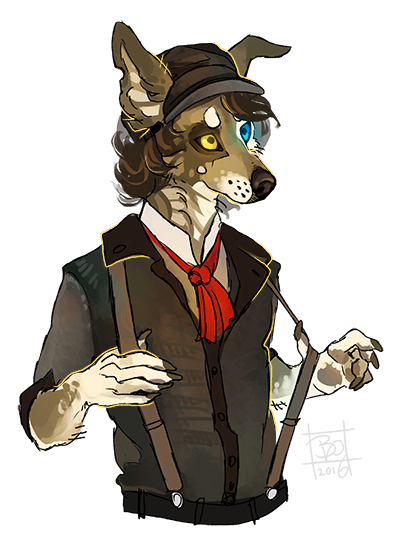 Smoll son by Alaine
Thomas Blanc was a member of The Five, a group who harassed Salsola during the "New Year, Old Troubles" pack plot in early 2016.
Thomas was captured by Salsola early in the conflict and viciously interrogated for information. He was later murdered by Osrath Eternity.
Overview

Basics

Heritage

Etc.

Date of Birth: 12 April 2013
Gender: Male
Luperci: Ortus
Species: Hybrid
Sub-Species:


Family: Blanc
Birthplace: Toronto, Canada
Pronunciation: TAHM-əs blan-KUH
Meaning: twin, white
Nickname: Tommy, 'kid'
1.  Appearance
1.1  Basics
Essentials

Coloration

Fur:
Markings:
Optime Hair:
Eyes:
Nose and Paw Pads:

Palette

Woodsmoke (#0C0D0F)
Forms
Modifications

Gear

Jewelry and Accessories

Herringbone flat cap
Suspenders
Red kerchief
Interaction
Scent: Forest, grass, musk, his companions
Speech: A fast speaker, Thomas has a decidedly French accent -- when he's nervous, he tends to speak in French as well.
Quirks, Gestures, Etc.: Nervous hands, constantly scratching his muzzle/nose, easily distracted
General Posture and Body Language: Relaxed/unawares, hesitant, defensive
2.  Personality + Skills
Mook Lieutenant - Just Following Orders
Still finding his feet, Thomas does his best to stay out of the way and get his job done. He's respectful, quiet, and decidedly looking for the next best opportunity.
A bit of a jack of all trades has left Thomas a master of none, though he has shown exceptional aptitude for spying and archery.
3.  History
Thomas grew up the youngest member of a large family already struggling by the time he came along. Neglected by his parents and overlooked by his elder siblings, Thomas had to spend much of his childhood struggling just to find enough food. He was still young when, frustrated with his situation, he ran away from home. This toughened him up quickly, though he lacked the mean-spirit of many of those he met along the way. Hardened nevertheless by his experiences, Thomas eventually found himself in Toronto. Here, Hans Voclain met, befriended him, and eventually took him into his gang. Thomas greatly looks up to him as a result.
3.1  Threads