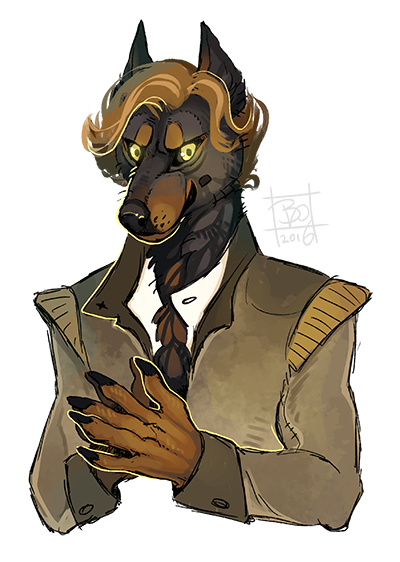 Prince c-Harming by Alaine
Hans Voclain was the leader of The Five, a group who harassed Salsola during the "New Year, Old Troubles" pack plot in early 2016.
He was captured alive by Scorpius D'Angelo and Vesta during the attack on their camp when a raiding party was sent to collect him for his crimes.
Overview

Basics

Heritage

Etc.

Date of Birth: 17 May 2011
Gender: Male
Luperci: Ortus
Species: Dog
Sub-Species:


Family: Voclain
Birthplace: Toronto, Canada
Pronunciation: h-AHN-s voh-CLAY-ne
Meaning: God has been gracious, wealthy
Nickname: Sir, Mr Voclain
1.  Appearance
1.1  Basics
Essentials

Coloration

Fur:
Markings:
Optime Hair:
Eyes:
Nose and Paw Pads:

Palette

Woodsmoke (#0C0D0F)
Forms
Modifications

Gear

Jewelry and Accessories
Interaction
Scent: Leather, horses, pine, his companions
Speech: Hans speaks with great eloquence, in the common-tongue or his native French. He is sometimes excessively wordy, to impress upon others his great perceived intelligence.
Quirks, Gestures, Etc.: Often steeples his fingers when in thought; Smiles generously, even when angered.
General Posture and Body Language: Dominant, Hans holds himself well with broad shoulders and a straight back. His body is often relaxed and fluid, even in moments of extreme tension.
2.  Personality + Skills
The Leader - Five Bad Band - The Heavy
The brains behind the operation. Hans was a born schemer cursed with indomitable determination, and will never stop until he gets his own way.
3.  History
The eldest son has a job to do, and a reputation to upkeep; But the life he was born to is stifling his creativity, and sometimes it's just so much easier to start afresh. Why throw in with the old ways when you can do it better?
But there are some loose ends still left to tie up - And an expensive debt to collect. Good thing Hans is never short of coin.
3.1  Threads