Mushi Tomoe
Mushi Tomoe is a coydog born and raised in Japan. She is in a polyamorous mateship with Diedrich De Gama and Raiden De Gama in order to elevate her poor social status. She is the true mother of Orochi Kenshin via her affair with Orochi Kanshinjou Kenji.
Tomoe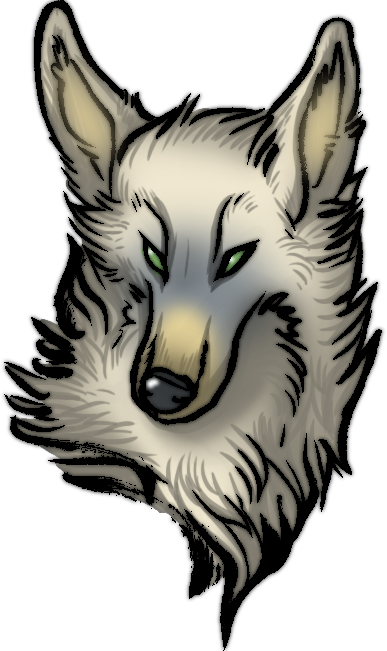 Lines by Kiri
History
In short, Tomoe is of hybrid descent and was born and raised in Japan. Her Shikoku Inu clan, the Washi (Eagle), were dwindling to nothing due to an outbreak of disease. This dishonored their warrior name, so Tomoe took her mother's maiden name in adulthood to distance herself from the shame. The De Gama family ruled over the samurai clan where she lived, and took note of her specifically for her King Shepherd blood. To elevate her poor social standing, she agrees to enter a loveless mateship with the codependent twins Diedrich and Raiden, bearing their offspring and allowing them to cull the pups that don't fit their family standard.
However, she risks her new status by having an affair with a lower-classed warrior (who also happened to have a mate): Orochi Kanshinjou Kenji. The affair results in an illegitimate son, Kenshin, who strongly resembles his true father. Unwilling to let the supremacist De Gama brothers exterminate this child, she must take actions to protect him. So that she does not lose the prized hybrid child that she made with Kei, she covers up the birth of the live boy by offering the twins the dead bodies of the stillborns that were born alongside the live pup. In the night she drops the puppy off on Orochi Kanshinjou Kenji's doorstep in a last attempt to make sure the boy stays alive. She continues to be a minor part of Kenshin's life, but knows that she cannot become too close to the child, for her mates might find out about her dirty little secret.
Personality
Tomoe is cool, calm, and distant on the surface; tough, cunning, and dominant on the inside. She is highly intelligent and often businesslike, calculating, and manipulative in her interactions. She was raised in an honour-shame culture that rewarded her for controlling and hiding her emotions, and ostracizing those that did not fit in. She is alpha material but was born into the bottom rung of society, and will do anything she can to elevate herself into the power she deserves. This includes hiding her contempt for her "business" mates, Diedrich and Raiden (whose habitual incest she finds odious), as well as allowing them to raise the children she bears in whatever way they wish, as she is emotionally detached from them.
Her weakness is Kei, a warrior of lower class that could never be a suitable mate, but still inflamed her passion to the point of risking everything she worked toward just to kindle an affair with him. (She views his mate, the servant and foreigner Paquette, as something of a dimwitted pet that she feels no threat from.) Her lovechild with Kei, Kenshin, is the first pup she genuinely feels maternal toward -- and with Tomoe's masterful intelligence and chilling patience for vengeance, woe betide anyone who harms a hair on his head.
Relationships
Family
Appearance
She is lithe and strong, with the lean elegance of a deerhound and sharp angles of a coyote. Her tall ears, thick tail, and other clues hint to her shepherd ancestry. Her slanting almond-shaped eyes and prominent cheekbones give her an exotic expression true to her native Kochi-Ken, or Shikoku Inu, roots. Her coat is wirehaired and coarse in her four-legged forms, although it grows softer and silkier in her Optime shift. Her mane is white and often styled elaborately. Clothing and accessories to be determined by adopter.
Coloration
Optime Hair:

Parchment (#F2EAD1)

Eyes:

Cucumber (#81B56A)

.
Nose/Skin:

Nevada (#61676B)

.
Fur:

Base color of soft

Oslo Gray (#858D93)

along her underbelly, upper legs, and muzzle, as well as marking all of her toes.
A hood of

Parchment (#F2EAD1)

sweeps over her ears, encircles her ruff, and fades along her spine to the tip of her tail.
Accents of

Putty (#EAD89C)

dust her lower legs and form a blaze on her muzzle, not unlike an eagle's beak.
Forms
Lupus

Secui

Optime

xx lbs (xx kg)
xx in (xx cm)

xx lbs (xx kg)
xx in (xx cm)

xx lbs (xx kg)
xxft xxin (xx in) (xx cm)

Describe Lupus form. Don't forget imperial and metric (Google does this for you) sizes because not everyone can read one or the other.

Describe Secui form.

Describe Optime form. In Optime form, some characters choose to style their hair -- if this is the case, how does your character usually wear it?