"My" Wiki Pages
Katrina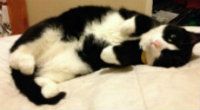 About

Alias:

Xani

Gender:

Female

Location:

Alberta, Canada

Birthday:

15 April 1987

Roleplay

Primary:

Contact

PM:

Email:

AIM:

tattered fiend

MSN:

obi_15@hotmail.com

tumblr:
Characters
Active
Inactive
DEAD
Info
Hullo. I've been playing on Souls for a long time now, started when I was 16 and have been going off and on ever since. Took a long hiatus after leaving high school and thinking I was too old/mature for wolf role-playing. I was wrong. Salvaged Eternity was my first proper character who started off as a lonely pup who as cliched as it is lost his mother and father and wandered to Souls, surviving somehow. From him a build a proper character who helped shape the genetic landscape of Souls through his rape and pillaging. Met tons of awesome friends this way and his face, although not snarling and nasty resides as a tattoo on my shoulder. Souls taught me a lot about writing, friends and a little about coding. Still can't make a table to save my life but hey, there has to be those of us requesting tables to keep the table-makers busy. I'm Canadian and damned proud of it and until the middle of 2012 resided in Amherst, Nova Scotia (born and raised). Maybe this is why Souls has a place in my heart, it's like home.
Thread Requests/Plotting:Generally if you email me I will get right back to you this is the easiest way to contact me given I have my phone with me all the time and I love getting real emails instead of junk.
Threads? I'm usually always open to threads especially with interesting plots, just send me a PM or an email and we can work out details. If from there you want to work out details through MSN or AIM that's cool too.
Reply Speed? If my history is any indication I can be slow replying but if you want a quick thread I'll do my best. If after 3 weeks you haven't replied though I'll either open up the thread to AW (if not replied to) or have it archived. I would hope others would do the same to me.
Guestbook