Policies

Territory

Membership

Information

Oath of Fealty

Looking to join the Realm? We suggest checking out our joining information to get started!

Adopt a New Caledonian!

Check out the pack adoptables here! We have a wide array of Caledonians, old and new, looking for players.

Maps

Please keep your information up-to-date so that it can be referenced accurately by other members, leadership, and outsiders.

Culture




Ranks and Societies

Contacts

Links

Chat

Misc.

Please PM the NC Pack Account directly for general inquiries and requests. We are most easily accessible via Discord for fast replies; checks 'Soulschat for our tags!

We'd love to see you in our active Discord server! If you're a member and have not received an invite, please PM pack leadership!
Fort Louisbourg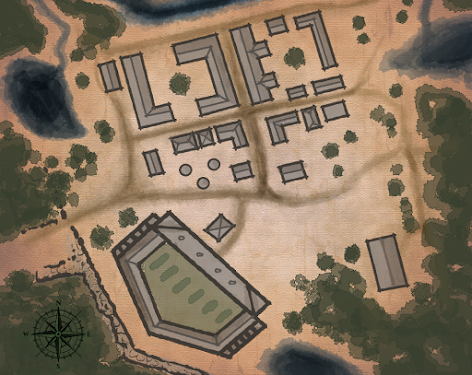 by Nat
1.  Policies
Feel free to claim unoccupied residences - Residences in The King's Bastion are exclusive to High Ladies/Lords of the Courts of Dusk and Dawn and above.
You need only edit the page and write in your claim -- or post to the Maintenance thread if you're not comfortable editing the Wiki.
Please keep your room description limited. You are absolutely welcome to link to a longer description, but keep it relatively concise on this page, please.
Feel free to include any and all characters and NPCs included in your residence.
If you leave New Caledonia (or aNPC for a prolonged period of time), we can't guarantee your residence will be available when you rejoin the pack. Sorry!
2.  The City Square
The Fortress of Louisbourg creates the main living space for New Caledonia. The Fort butts up against mountains and faces out towards the sea. A collection of stone homes make up the City Square, with a longer building that denotes where the nobility live. Many sections of the tiny town have become overgrown by wilderness, with massive tree roots cracking through buildings and layer upon layer of overgrowth taking over.
The City Square, Residences
by Nat
2.1  Residents
Occupant(s)
Location
Description
NPC pets in Residence -

(list NPC luperci in 'Occupants')

Former Occupant(s)
Toraberā Tanaka
Residence 1
There are a number of archery targets and practice dummies set up behind the house as well as a hitching post. The furniture inside is covered with wood carvings and the walls covered with drawings and sketches. Passersby can often see a raccoon napping in the windowsill or the ghost of a man in the doorway.

Free Roaming: Runner the Raccoon
Stabled: Jolie the Mare

None.

Wither Rose Soul, Amon
Residence 2
A quaint cottage, it is one of the smaller stone houses in the square, complete with dusty green shudders and mismatched stones. The kitchen is modestly stocked, and the front room is equipped with a ratty couch and fireplace that are serviceable for entertaining guests. The two back rooms have been established as sleeping quarters.

Free Roaming: Cinder (domestic cat)
Stabled: —

Unoccupied
Residence 3
A basic small cottage in need of some repairs and furnishings. Inside there is a small fireplace with a stone chimney. Avery has removed all the old furnishings and is working on making it presentable.

Free Roaming: ---
Stabled: ---

Nkechi Ndaiye
Residence 4
--

Free Roaming: ---
Stabled: ---

None.

Aidan Loch
Residence 5
One of the largest houses in the area, this curious L-shaped structure has seen better days. Obviously designed to be more modern-looking, the house has been fitted with numerous sliding glass doors and windows, which have all been broken and hastily boarded up.

The house also features a basement as well, but unfortunately the stairwell has collapsed, taking with it along part of the ground floor. Until that has been fixed up, there is no way to enter the basement as of now. The only few furniture that survived in usable condition included a beaten up couch, which serves as a bed for Aidan right now, a wooden table and a few shelves.

Free Roaming: ---
Stabled: ---

None.
Daisy Parhelion, Isadore Savoy, Gaia Dawnrunner
Residence 6
A long, open structure with a central fire place, gathering area, and divided "kitchen". Sleeping areas have been sectioned off with curtains and rope towards the back of the building.
Percival Parhelion; Cora Cormier
Unoccupied
Residence 7
The house has been donned with many fabrics, acting as curtains. A space sequestered for practicing dancing, a space for tailoring, and then behind one of the large curtains is a wood framed bed covered in colorful pillows and blankets.

Free Roaming: ---
Stabled: ---

Inara Ailurus
Unoccupied
Residence 8

Free Roaming: ---
Stabled: ---

Kalypso Savoy, Athalie Savoy, Eulalie Savoy
Unoccupied
Residence 9
--

Free Roaming: ---
Stabled: ---

Ánh Thị Linh
Unoccupied
Residence 10
--

Free Roaming: ---
Stabled: ---

Alix Sairina
Arran Fir-Chlis, Rhavan Fir-Chlis, Gwaun Fir-Chlis, Tuilinn Fir-Chlis, Tavor Fir-Chlis
Residence 11
The house is mostly empty, containing a few chewed on sticks, a staff, and a blanket. One or two cats can often be found inside as well.

Free Roaming: Slink (orange tabby tomcat), Spring (siamese type female cat)
Stabled: --

None.
Maephis Valekoi, Camille de le Poer
Residence 12
Consisting of one main room, a bathroom (storage), and two bedrooms, this house is big enough to fit two adult Luperci. At the moment, the house is pretty empty. There are crudely cut furs covering the windows to keep out the chill and a pile of furs in each room for makeshift beds.

Free Roaming: ---
Stabled: ---

Dystopia Massacre, Catharsis Massacre
Unoccupied
Residence 13
--

Free Roaming: ---
Stabled: ---

None.
Unoccupied
Residence 14
--

Free Roaming: ---
Stabled: ---

None.
Unoccupied
Residence 15
--

Free Roaming: ---
Stabled: ---

None.
Sólveig Dawnrunner, Merlin Knight, Ingvildr Knight
Residence 16
Description TBA.
Thyri Dawnbringer, Rúna
Saga D'Angelo, Caspar, Ramsey, Evariste, Esyllt
Residence 17
--

Free Roaming: Ghost
Stabled: ---

None.
Lomasi Redfeather, Kitchi Redfeather
Residence 18
A fairly large house, it consists of one large room with an old iron stove and three small rooms: two bedrooms and what used to be a bathroom but is now storage.

Free Roaming: ---
Stabled: ---

None.
Valan
Residence 19
The standalone building is comrised of varying materials: the original wood, and in the areas that were decimated with age, clay mortar and stone. Inside, a hearth has been constructed of the same exterior stone, large and sturdy enough to burn a fire day and night. There are no rooms or partitions in the home, allowing the warmth of the fire to collect in every corner. A soft hide bed on a scrap iron bedframe is situated in one corner, and across from it, sitting beneath an open window with scrapwood shutters, is a large table.

Free Roaming: ---
Stabled: ---

None.
Smokecloud
Residence 20
--

Free Roaming: ---
Stabled: ---

None.
Valerian Hollybriar
Residence 21
TBA
None.
Unoccupied
Residence 22
--

Free Roaming: ---
Stabled: ---

None.
Vegard, Kattegat Tarasova
Residence 23
Descript coming soon!

Horses have a hitch that they are tied to that is on the west side of the building.

Free Roaming:

Valkyrie(mare)
"Owl" (snowy owl)

None.
Teagan Stryder, Naomi Stryder, Mako, Genkei
Residence 24
--TBA; horses are tied to posts in the ground near the home, Abelie, Whiskey, and filly, Bacardi, are often allowed to roam free in Rhovanian. Kenyon and Apollo are intact stallions and not allowed to freely roam as a result.
None.
Calan Brecours
Residence 25
A long, narrow stone building with wooden doors on either end and windows along all sides. Doubles as a home and a shop. The front door is visible from the main path, and is often left slightly ajar when the shop is open. It is clearly demarcated with a large, friendly-looking scarecrow. Inside, the front half of the building is arranged for display: shelves, milk crates, and a long, old wooden counter. Rugs are piled all over the floor to keep out the chill. The back half is separated from the shop by a large shelf and a floor-to-ceiling sheet of fabric, and is best accessed from the back door. The furniture - a simple double bed, a desk, and a storage chest - is sparse but covered in various knick-knacks and loud patterns. A large fireplace keeps the whole building warm in winter.

Free Roaming: ---
Stabled: ---

None.
Varcen Quilda, Isen Quilda
Residence 26
A lonely, derelict building with immediate access to the Sword Coast and Lochan Glas, the small Quilda household looks and feels—even now—as if might be better off forgotten. Everything in it, save for Merilin's perch (which she rarely uses), is perpetually on the verge of collapse, including one or more of its inhabitants. With only two small windows on opposite sides that are covered at all times with leather and a door that hangs askew, it's a gloomy, dark house. Only a few small belongings (a book, some candles, a bottle of homemade moonshine) are scattered throughout.
None.
Bellad Songthorn, Ierian Songthorn
Residence 27
A warm house with a fireplace. Bellad set up a bed for Ierian. Saplings in soil bags rest on the floor and brushes of lavender hang on the walls

Free Roaming: ---
Stabled: ---

None.
3.  Guild Hall
The Guild Hall is made up of the out cropping that extends behind the noble houses. At this time many portions of the roof are caving in, but as New Caledonia grows and Guilds begin to form this is where they will congregate to ply their trade. The fort has a thin hall that runs through it, with rooms of varying sizes off to either side. Keyhole windows peer out into the clearing that lays between the Guild Hall and toward the Noble House.
The King's Bastion and Guild Hall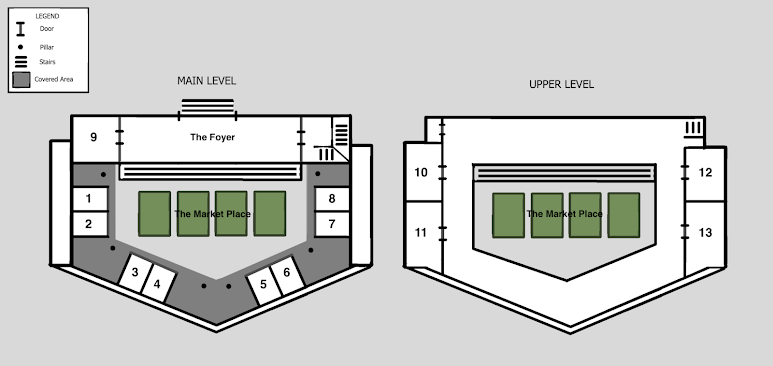 by ??
3.1  Current Guilds
Guild Name
Location
Description of Guild
Relevant Co-Ranks
Guild Members
Unoccupied
Room 1
brief desc goes here
None.
Unoccupied
Room 2
--
None.
Unoccupied
Room 3
--
None.
Limthoron
Room 4
Created with the idea of ensuring all New Caledonia (and their mascot) is fed, Limthoron is a guild based around fishing, sailing, and expanding the various skills and crafts its members may need. The guild also promotes the tenets of its patron goddess in terms of sustainability and respect for the waterways within the Kingdom.

Piscator, Corsair, Priestess, Tinker

Percival Parhelion, Daisy Parhelion, Willow Cormier
New Caledonia Trading Company
Room 5
A group of industriously minded individuals who work cooperatively to produce goods, foster trade arrangements, and generate wealth for New Caledonia. Individuals contribute to any part of the process, including acquisition of raw materials, product manufacturing, trade negotiations, and distribution of goods.

Merchant, Tinker, Diplomat, Magister, Ironpaw, Hunter, Herdsman

Kalypso Savoy, Fennore, Calan Brecours, Hibiki, Kadir Ahearne
Unoccupied
Room 6
--
None.
Unoccupied
Room 7
--
None.
Unoccupied
Room 8
--
None.
4.  The King's Bastion
The King's Bastion is the area that faces the rest of the Fort, and is divided between the Nobility. The long building is made of brick and stone but has seen better days - with a rear area that had caved in on itself, and windows that are no longer filled with glass. Due to the Forts historical value there were efforts to restore the fort in the early 80's, and there are pieces of scaffolding that have long since rusted, or rooms that are half painted or blockaded by dilapidated furniture
4.1  Residents
Occupant(s)
Location
Description
NPC pets in Residence -

(list NPC luperci in 'Occupants')

Former Occupant(s)
Iomair and Vodeva?
Room 9
The ground floor room is spacious and flanked in broken windows that attempt to bring in natural light from the outdoors. The interior has been sparsely decorated with an unbalanced table and a creaky wooden chair. A bed of straw and furs is thrust up against one wall alongside an overstuffed and mildewy chesterfield that acts as a Luperci chair. The room still has its original door, though it is chipped and scratched - it obviously has a story to tell.

Free Roaming: ---
Stabled: ---

None.
Percival Parhelion
Room 10
--
None.
Inara Ailurus
Room 11
--

Free Roaming: ---
Stabled: ---

None
Fennore
Room 12
Colored fabrics cover the window, casting various shades of red and blue hues on the interior. A makeshift bed lies in the corner, covered with plush furs, and beside it sits an old chest containing clothes and other personal items. In front of the window is a desk, usually covered with parchment, used and fresh, and a few Luperci-made books. The door has several deep scratches in its surface, and there are more superficial ones near the bottom, presumably from little cat claws.
None.
Kalypso Savoy, Athalie Savoy, Eulalie Savoy
Room 13
A rather scantly decorated space with distinct spots for each person to sleep. For the moment, only a short bookshelf, table, and chairs are found in the space. Personal possessions seem to be carefully stowed away from prying eyes. Some decoration has clearly been made in the form of knotted rope-work and sea-glass beads hung up in places, including the windows.
None.
5.  Other
5.1  Residents
Occupant(s)
Location
Description
NPC pets in Residence -

(list NPC luperci in 'Occupants')

Former Occupant(s)
Characters

Free Roaming: ---
Stabled: ---

None.