Willow Martel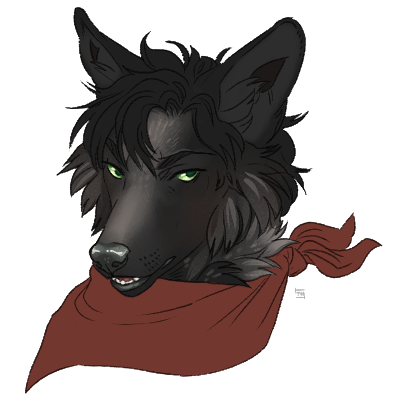 Credit: Despi
Name: Willow Martel

Etymology:

Willow: willow tree; freedom (English)
Martel: hammer (Old French)

Nickname: Will
Alias: Bark (occasionally used outside of the Ganglands)
Epithet: The Smoking Mirror

Date of Birth: 31 Mar 2021

Birthplace: Maine, North America

Gender: Trans Male

Pronouns: He/Him
Sex: Female

Species: Coydog
Pack: Del Cenere Gang

Rank: Los Linternas
Corank: Arquero (Archer) II, Pionero (Scout) I
Residence: The Dark Arrow, Irving

Family: Martel
NPCs:

Raeburn Martel (cNPC)
Rustbroke (Stallion)
Frank (Raven) (Belongs to Raeburn)
Player & Creator: Hydra Triangle
Assumptions:
Threading: Open

(All) ...diplomacy or trade, hunting, petty crime, advice or assistance, small stakes rescue
(Del Cenere Gang only) ...pack projects, sparring, scouting, occupations, skinning, trapping, cooking, brewing

Links:
1.  Introduction
1.1  Background
Willow Martel is a member of Del Cenere Gang, ranked among Los Linternas. He is the son of Wade Martel and Annabel Ellery, and younger sibling to Silvia Martel, Raeburn Martel, and Owen Martel though he is the only child of his litter. When his father died and his older siblings were elsewhere, his mother abandoned him too young, and during the time he was essentially orphaned he was taken in by Courtright family as a ward in the nearby Palisade. As the Courtrights act frequently as muscle, Will's training there focused mostly on combat skills.
He departed Palisade when he was old enough for the purpose of experiencing new sights and climbing the ranks of Del Cenere.
While not the most ambitious of their pack, Willow nevertheless is motivated to garner positive attention from his peers and work on overcoming the shyness typical of adolescence. He has managed this with relative ease, and as such is a exemplary (if not cookie-cutter) example of a Del Cenere Gang member. Once rather bias against wolves, his view on them has warmed considerably after forming good relationships with some wolves of the Kingdom New Caledonia. He keeps this to himself, but his wolf sympathy is something of an open secret within the Gang: the only 'mark' against Willow.
2.  Appearance