TuruambarWolfbane
Turuambar Wolfbane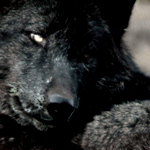 | | |
| --- | --- |
| Name Origin | Turuamabar (mispelling of Turambar, "master of death") and Wolfbane |
| Date of Birth | ?? |
| Age | Deceased |
| Gender | Male |
| Subspecies | 50% Scotland wolf |
| Birth Place | Unknown |
| Pack | Clouded Tears |
| Rank | Lehrling |
| Player | Requiem |
Turambar Wolfbane was within Bleeding Souls since March 29, 2004. He became a member of Clouded Tears upon his arrival. Durring the month May, he met Shaeniire, a Lerhlin of Jaded Shadows and fell in love. In September, she asked him to come and join her pack, to stay with her. But, mysteriously, he dissapeared soon after and was never heard of again.
1.  Personality
Turuambar Wolfbane was an arrogant wolf, and he often paid the price for it. He was often quiet and reserved, not even curious. He was able to show compassion easily, however, and can become shy.
2.  Appearance
The wolf is large and his coat is of a pure black hue. His eyes are what distinguishes him, as they are dual coloured, one being black and one being white. It is from Turuambar that Cwmfen nic Graine gets her unique eyes.