NPC Characters of Miyu
Using and Referencing NPCs
If your character is in the same pack as my characters (and therefore their NPCs), feel free to reference these characters as being seen around the packlands, etc. in your posts.
If you'd like actual interaction with these characters in your thread, ask Miyu first! :)
In the case of either of the above, special notes are listed here. Please pay attention to them, and make sure you are adhering to that character's temperament, etc.
Ninovan
Basics
Credit: HOTNStock @ deviantart
Description
When visible, Ninovan is a typical wolverine -- a somewhat large and stocky mustelid with a muscular build and short legs. Her dense fur is darkest on her legs and face, offset by a pale buff stripe along her sides. Her shoulder height is estimated at 18in/45cm, but when upset her pelt fluffs to make her appear significantly larger. She has shiny black eyes, and speaks with a rough snarling voice. As a spirit, she tends to prefer partial visibility, and does not cast a shadow or scent.
About
Ninovan is tough and fearless, as to be expected from the dominant and aggressive form she chose.[1] She was drawn to Domovoi's strength of will and seeks to teach him to adapt and overcome his demons rather than let them destroy him. She is not a patient teacher -- quite often she loses her temper and vanishes for periods of time, or reacts violently when her advice is ignored. Ninovan also has a blunt sense of humor (see: Sarcastic Devotee) and occasionally adopts Dom's casual swearing. She seems uncomfortable with other spirit guides and rarely interacts with them, though she will show her form to those nearby. She first appeared to Dom in August 2014 when he was suffering from alcohol poisoning[2].
Aniki
Basics
Aniki is primarily dun/light brown in color, with a darker brown mane and dorsal stripe. His height is about 11 hands, significantly shorter than horses. He is typically scruffy/ungroomed, since his "owner" lets him run wild. He is quite friendly and bold around horses and Optime Luperci, implying he might have had a previous owner. He is skittish around Lupus/Secui wolves, however, viewing them as potential predators. The exception is puppies; he is very curious about pups and is even protective of them. He can be hitched to the cart and will pull gardening supplies, plants, or puppies on a hay ride. Aniki loves the sheep and spends a lot of time with the flock, grazing together. He is available for stud, as a donkey can interbreed with horses to create mules.
About
For the most part, Coli has no interest in companion animals and views them as a waste of time and resources. In particular, birds are food and horses frighten her, so she is baffled by anyone who raises them. Then she ended up with a donkey, purely by accident. Aniki is a jack (male) donkey that wandered into the Vinátta herb garden during a summer rainstorm in 2012.[5] Coli mistook him for an escaped horse and led him back to the VN stables, only to find out he is actually feral and no one owns him. She grudgingly names him and decides he is hers, because if she releases him he will eat her flowers again. He lives at the stables now. Niernan was the one to convince her to keep him, and later Shiloh made a trip to Freetown and brings back a donkey cart she got in exchange for some of Coli's rarer plants. When VN obtains a flock of sheep, Aniki is the first to welcome them and frequently goes out grazing with them. He plays with the lambs, and is protective of them.
History
Aniki wandered into the Vinátta herb garden during a summer rainstorm. Coli mistook him for an escaped horse and led him back to the VN stables, only to find out he is actually feral and no one owns him. He is quite friendly and bold around horses, sheep, and Optime Luperci, implying he might have had a previous owner. He is protective of pups and lambs, and spends his time at the stables or grazing with the flock.
Isolde's Companions
Henry
Basics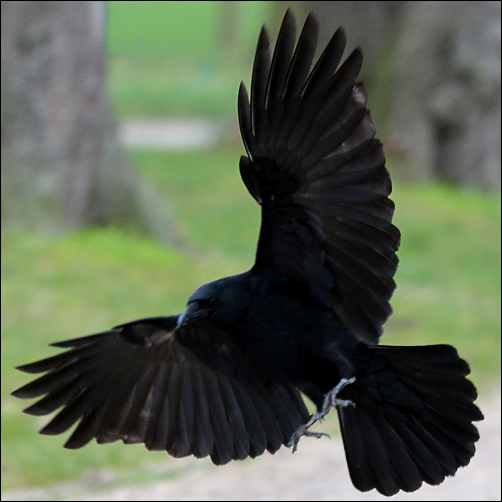 Credit: Momotte2stocks @ deviantart; [6]
Description
Adult male crow, solid black plumage with no distinguishable markings or irregularities. Wingspan 35 in (88.9 cm) - on the larger end of average for his species.
About
Given to Isolde by Aeron in July 2013 to encourage her to follow the diplomat rank path.[7] Henry seemingly refuses to use High Speech with the exception of one word: "death". He is gleefully attracted to dead things, as is expected of a carrion bird, and gets noisy when he finds any sort of carcass nearby. He tends to be stubborn and ignores Isolde's clumsy attempts to train or control him, though he follows her all the same and is often found perched on her shoulder. Acts as a sentry and alarm clock.
Bud & Lou
Basics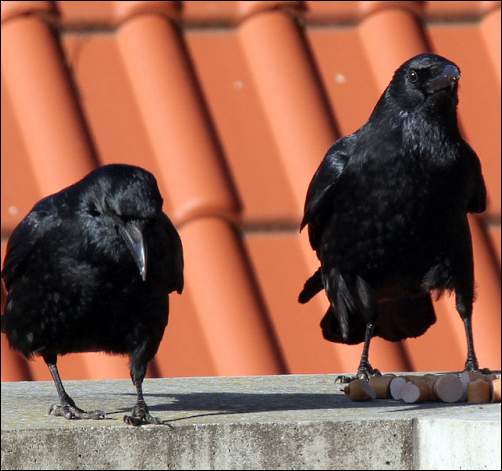 Credit: peroni68 @ deviantart
Description
Twin crows, solid black plumage with no distinguishable markings or irregularities. Indeterminate gender (according to Isolde).
About
Nestmates rejected from their wild flock that began following Henry in the fall of 2013, and by extension, Isolde. She can't tell them apart or sex them, so she gave them what she considers gender-neutral nicknames, Bud and Lou. She was able to train them to "mob" a target she whistles at, although otherwise they tend to ignore her attempts to direct them. They are always together, and are smaller than Henry.
Lethe
Basics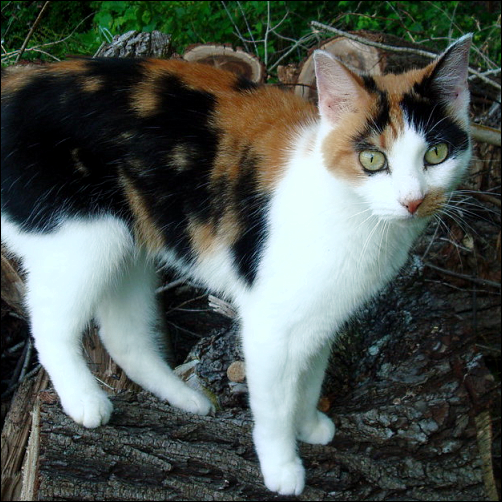 Credit: sUpErWoLf--StOcK @ deviantart
Description
Lethe is a young calico cat. Still skinny and gawky in her adolescence, her most striking feature are the pair of wide green eyes that never seem to blink. She's a bit skittish outdoors, but in the company of those she's familiar with, she becomes pushy and demanding of affection.
About
Lethe is the daughter of Zenna, Aeron's prized calico queen. Kentaro gave the kitten to Isolde in February 2014 as a housewarming present.[8] It is largely due to Avernus that Lethe survived; Isolde knew nothing about cat care, and after a few close calls with the crows, Ave stepped in to raise the kitten.
Hati's Companions
Asagi
Basics
Description
Asagi is a chestnut mare with thoroughbred influence. Roughly 15.2 hh. She has three white stockings leading to pink hooves; her left foreleg has no sock and a grey hoof. In 2012 she was quite overweight, but a daily riding regimen now keeps her trim and healthy. Hati sequesters her away from stallions so that she cannot be bred.
About
Hati's mother's horse for years, Asagi is a gentle carthorse and steady mount, and was used as one of the plow-horses that helped to construct the Cour des Miracles amphitheater. When Ayita passed away in September 2012, Hati inherited the mare.[15] He is very protective of her as a result, since she is a memento of happier times. He rides Asagi daily, taking her on trails through the forests and countryside -- but is extremely cautious about taking her outside of pack territory, for fear she will be stolen from him. Asagi is an older horse, and very patient with younger horses like Luneth.
Luneth
Basics
Description
Luneth is a skewbald mare of gypsy vanner descent. She stands roughly 16.2 hh, with obvious draft traits such as leg feathering and a sturdy, muscular build. Her coat, mane, and tail are almost entirely white, with distinctive pinto patches of grey on her face and stomach. Her hooves are all pink; her eyes are dark.
About
Born into the wild, Luneth was briefly a lead mare in her small feral herd. She is young, spirited, unbroken, confident, even bossy; Asagi is a calming influence. She appeared to Hati from time to time in the wild, and he thought at first she was a ghost or something supernatural. It was not until December 2012 that Hati finally brought her to the stables with Alder's assistance, as she was in need of medical care.[22] She is now in good health and trusts Hati and Alder with a halter/lead, but still balks at the saddle. Hati brought her to The Outpost in March 2013 for stud service, where she was covered by Dalimil Kovachev's stallion Vlast. She birthed Marche in February 2014, and is now moodier than ever.
Marche
Basics
Description
Marche is a handsome colt combining his sire's chestnut color with his dam's skewbald pattern, and the long feathering from both parents. His hooves are pink; his eyes are pinto blue. He is bound to be high-spirited and assertive, one day to be a dominant and sought-after stallion like Vlast; right now he is still a little colt.
About
Marche is the son of Hati's mare Luneth, and Dalimil Kovachev's stud Vlast. He was born in February 2014, and besides being doted on by Hati, his young life has been uneventful thus far.
Kestrel?
Basics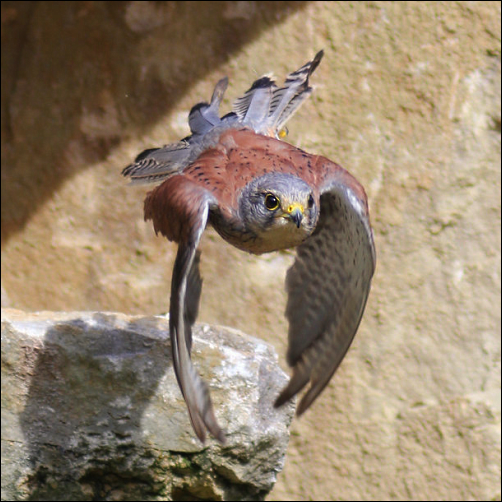 Credit: Parides @ deviantart
Description
--
About
--