Firefly Sadira
Firefly Sadira
Player
Shannon
Name Origin
Sadira: Mother's surname
Date of Birth
August 22, 2007
Age
> 3 years
Gender
Female
Subspecies
75% Canis lupus arctos
25% Canis lupus fuscus
Luperci
Yes (Ortus)
Birth place
Storm
Current pack
Cour des Miracles
'Souls Profile
Previous Packs Cour des Miracles
| | |
| --- | --- |
| Joining date | August 26, 2009[1] |
| Rank | Duchess |
| Significance | Founder; Member |
Dahlia de Mai
| | |
| --- | --- |
| Joining date | June 7, 2008[2] |
| Rank | Acer |
| Significance | Member |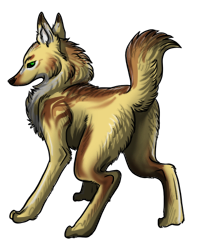 Firefly's winter pelt, by Kiri
Firefly Sadira is daughter of Iskata Sadira and Phoenix alongside siblings Kansas Sadira, Ember Phoenix and Icarus Phoenix. She was a longtime member of Dahlia de Mai and a founder of Cour des Miracles.
1.  History
Firefly was born to Iskata and Phoenix in Storm on August 22, 2007. Later, she lived in Eire, Ireland, but returned to 'Souls. At this time, she joined Dahlia de Mai. She was a member for a year; in August of 2009, she chose to join Cour des Miracles.[3]
2.  Personality
Firefly has a fiery temper and has been known to speak her mind. This has gotten her into trouble with authority figures and other strong-willed women, such as Svara Thames.
3.  Relationships
3.1  Family
4.  Appearance
Firefly is an off-white beige or golden colour depending on the time of year. She has deep green eyes, and in her Optime form, rich red fur styled like hair.
4.1  Summer pelt
Firefly's summer pelt is an off-white beige with golden and brown running down her back to tail, on her legs, tip of her nose, eyebrows and cheeks. She has a light white underbelly.
4.2  Winter pelt
Firefly's winter pelt is the darker golden colour with darker lowlights and lighter highlights.